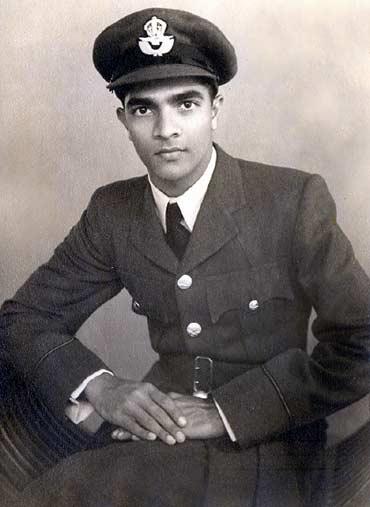 War hero Vonthibettu Prabhakar Hegde made the first-ever landing in Mangalore, 59 years ago. His passenger: India's first prime minister Jawaharlal Nehru. He tells rediff.com's Rajul Hegde the airport is tricky but not unsafe.
War hero and pioneering aviator Vonthibettu Prabhakar Hegde won't forget December 25, 1951, for as long as he lives.
On that day the retired wing commander, now a spry 84, then an air force flight lieutenant, flew India first prime minister Jawaharlal Nehru on the first-ever flight to Mangalore airprot (then called Bajpe Aerodrome) on a DC-3 (Dakota). 
Talking about the maiden flight from his home in Bangalore, Wing Commander Hegde told rediff.com, "When I landed for the first time at Bajpe, they were just digging and levelling the hill to build the runway. So it was just a non-tarmac, level ground, there was no airport as such. But the DC-3 is a small aircraft and it was easy for me to land it."
On being asked Nehru's observation or if he commented on the airport or the landing, he said,  "He would not comment on the technicalities of the flight or landing because he knew we were experienced. He just shook hands and thanked us after the landing."
He adds, "Nehru came to campaign for India's first democratic elections. There was hardly any equipment at the airport to help during the landing. It was not difficult for me to land on a table-top 'runway' because I was experienced in flying to Kashmir, which had a similar airport."
When asked about Saturday's air crash in Mangalore, he says, "This talk about it being a dangerous or unsuitable airport has no basis. The airport has functioned without a major mishap for nearly six decades. It just cannot suddenly become a 'dangerous' airport. If anything advances in technology and equipment has only made flying safer."
The veteran aviator says, "The plane could have crashed due to an error of judgment while landing. Or it's possible the captain allowed the co-pilot, who was also experienced, to land. Something must have gone wrong and before they could act or correct it, the plane must have crashed. Now they have recovered the black box and I hope they get more information and causes of the crash will be clear."
When asked if landing in Mangalore is difficult, he said, "I don't think so. But yes it is a tricky airport because it's a table-top and doesn't have flat ground around it. But experienced pilots can land easily on table-top airports."
Wing Commander Hegde flew for the Indian Air Force for 24 years and retired in 1968. He was awarded the Vir Chakra, India's third-highest gallantry award, for outstanding services rendered as an IAF squadron leader during the Kashmir operations in the Indo-Pakistan War of 1947.
Image: Wing Commander V Prabhakar Hegde when in service | Photograph courtesy: Geeta Shetty