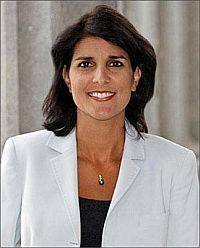 A political blogger has claimed he had an 'inappropriate physical relationship several years ago' with South Carolina State Representative Nikki (Randhawa) Haley.
Indian American Haley is the front-runner in the Republican primary for the post of South Carolina governor.
The 'revelation' comes ahead of the Republican primary scheduled for June 8. The winner of the primary is expected to win the general election in November as the state is predominantly Republican. If Haley wins, she will be the second Indian American to become governor of an American state after Bobby Jindal, also a Republican, in Louisiana.
Unlike India where the governor's post is largely ceremonial, the governor in an American state is perhaps more powerful than an Indian chief minister.
Haley categorically denied the accusation made by Will Folks who edits fitnews.com
Sarah Palin, the Republican vice-presidential candidate in the 2008 US presidential election who recently endorsed Haley's candidature, has issued a statement supporting Haley.
In a statement, Haley said, 'I have been 100 per cent faithful to my husband throughout our 13 years of marriage. This claim against me is categorically and totally false.'
'It is sad, but not surprising, that this disgraceful smear has taken form less than a week removed from the release of a poll showing our campaign with a significant lead. It is quite simply South Carolina politics at its worst,' she added.
Palin said, 'As I said to Nikki this morning, "Hang in there. I've been there. Any lies told about you will strengthen your resolve to clean up political and media corruption. You and your supporters will grow stronger through things like this.'
Folks is a former spokesman for current South Carolina Governor Mark Sanford who was involved in a controversy for his affair with an Argentinian woman. Sanford's former wife Jenny, who is very popular in the state, has endorsed Haley.
'Several years ago, prior to my marriage, I had an inappropriate physical relationship with Nikki. That's it,' Folks wrote on his blog.
He did not reveal when the 'relationship' had taken place, after her marriage or before. He wrote that a group opposed to Haley were spreading rumours and planning to make public the 'relationship'.
Folks also had some good words for Haley. 'I have become the primary target of a group that will apparently stop at nothing to destroy the one candidate who, in my opinion, would most consistently advance the ideals I believe in.'
According to The State, South Carolina's largest newspaper, 'Folks is a controversial figure in South Carolina politics. He pleaded guilty to criminal domestic violence in 2005, and then built fitsnews.com into an influential blog among South Carolina's political community. The site often relies on anonymous sources, and Folks shrugs off accusations that he is paid to publish certain stories.'
Image: Nikki Haley