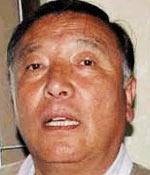 All India Gorkha League president and a strong advocate of Gorkhaland, Madan Tamang, was killed in an attack by unidentified assailants in Darjeeling town on Friday.
Darjeeling District Magistrate Surindra Gupta said he was attacked with kukris and swords near the Planters' Club when he was supervising arrangements for a meeting scheduled for later in the day. He has died, Gupta said.
There was a clash between AIGL supporters and activists of the Gorkha Janmukti Morcha who were opposed to the meeting following which police fired five rounds.
Gupta said no one was injured in the firing.
However, GJM general secretary Roshan Giri said a few of his supporters were injured in the clash and one suffered bullet injuries.
Tamang was opposed to the GJM's stand on an interim set-up for Darjeeling hills pending setting up of a separate state and demanded Gorkhaland instead.
Inspector-General of Police (North Bengal) K L Tamta said the AIGL had initially decided to hold the meeting at Darjeeling Chowrasta, but later shifted the venue due to opposition from GJM.
Immediately after the attack on Tamang, shops and markets closed down, the police said. The police has also intensified patrolling in Darjeeling town.
Image: Madan Tamang