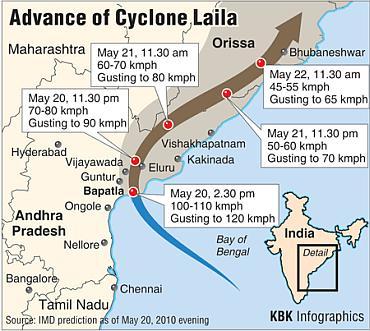 The Armed Forces have swung in to action to extend a helping hand to the civil administration in dealing with the situation emerging out of Cyclone Laila. With the severe storm crossing the coast, the Indian Army has moved three columns, each comprising 96 men, including doctors, from Hyderabad to the coastal districts.
The Indian Air Force also mobilized two Chetak and two MI-8 helicopters while ten AN-32s and an IL-76 aircraft have been kept on standby to meet any eventuality.
One Naval team of 33 men with five Gemini boats has already reached Narsapur in West Godavari district. Two Dornier aircraft and two Chetak helicopters of the Coast Guard conducted sorties today to trace the vessels still out at sea. An Advanced Offshore Patrol Vessel (AOPV) has also been pressed into action by the Coast Guard.
According to a press release of defence department, a high-level meeting of senior Armed Forces officers was held in New Delhi this evening to review the preparedness and planning a swift response. The tri-Service Headquarters, Integrated Defence Staff has set up a Relief Coordination Cell at the Andhra sub-Area Headquarters in Hyderabad to coordinate all Rescue and Relief efforts. The situation is being closely monitored, it said.
Besides, 1,200 personnel of National Disaster Response Force along with 80 boats have also entered the field, mostly in Prakasham and Guntur.
Meanwhile, the state government said 51,000 evacuees were staying in 255 relief camps and they were provided more than a lakh food packets and nearly three lakh water sachets.
The administration was also relieved over the fact that the havoc caused by cyclone was largely restricted to Prakasham and Guntur while Krishna, Nellore and East Godavari were partially affected. Srikakulam, Vizianagara, Visakhapatanam and West Godavari have escaped the fury of the storm.
Breaking all records, Addanki in cyclone hit Prakasham district, has received rainfall of 55 cm in only four hours on Thursday. The unprecedented rain has resulted in flooding and inundation of many parts of the town, extensive damages to the houses and normal life was paralysed. The gale winds have uprooted trees and electricity poles, blocking the roads.
Graphic: KBK Infographics