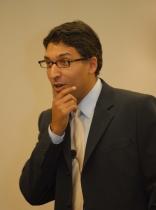 Top Indian American lawyer Neal Kumar Katyal will now serve as the United States government's top legal counsel, with Solicitor General Elena Kagan vacating the post following her nomination to the Supreme Court.
Kagan informed the Supreme Court in a letter that she has been nominated by President Barack Obama for the vacancy in the apex court, and the development leaves her principal deputy Katyal to serve as the Acting Solicitor General.
The Solicitor General, who holds America's top-most legal position, argues the administration's cases before the Supreme Court.
"In light of my nomination to serve as Associate Justice of the Supreme Court of the US, the Principal Deputy Solicitor General Neal Kumar Katyal will serve as the Acting Solicitor General in all fillings after the date of my nomination involving the United States government," Kagan said in a letter dated May 17 to the Supreme Court clerk.
One of the country's top legal brains and the son of Indian immigrants, Katyal's promotion was effective as of May 10, the date Obama nominated Kagan as replacement for retiring Justice John Paul Stevens.
Katyal, 40, previously served as the National Security Adviser in the Justice Department between 1997 and 1999, and was commissioned by President Bill Clinton to write a report on the need for more legal pro bono work.
He also served as Vice-President Al Gore's co-counsel in the 2000 presidential election.
However, in his most notable case, Katyal represented Salim Ahmed Hamdan, the driver of Osama bin Laden, and successfully challenged the President's authority to create military commissions to try Guantanamo Bay detainees without legislative authority.
Katyal also suggested that a new federal court should be created to try terror suspects at Guantanamo Bay.