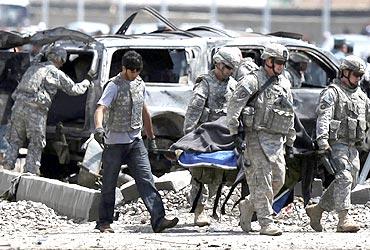 A suicide car bomb attack near a hospital and army recruitment centre killed at least 20 civilians in Kabul on Tuesday morning, and injured scores of others.
According to reports, North Atlantic Treaty Organisation's troops were the target of the attack that took place during rush hour in the western part of the Afghan capital. A NATO convoy was passing the area at the time of the attack, said reports.
No group has claimed responsibility for the attack so far, but officials suspect that the Taliban are behind the suicide blast.
This is the deadliest strike in Kabul since the attack on February 26, when Taliban militants attacked hotels and guesthouses in the heart of the city, and killed foreigners and Indians.
The bomb was detonated by an attacker in a minivan, according to reports. There was no information available on whether any NATO troopers were killed in the blast.
The conflict-torn country has witnessed a rise in insurgent attacks in the last one year. As many as 202 NATO soldiers have been killed since January this year in one of the bloodiest periods since US launched its war on terror in 2001.
Image: US soldiers carry a body at the site of a suicide car bomb in Kabul on Tuesday
Photograph: Ahmad Masood / Reuters