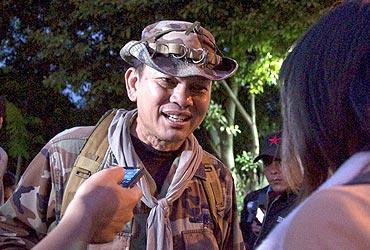 Rogue military leader and Red Shirt supporter Gen Khattiya Sawasdiphol, also known as 'Seh Daeng,' was pronounced dead on Monday.
He fell prey to an assassination attempt and had been in critical condition in the hospital since Thursday. He finally succumbed to the gunshot that went through his head on Monday morning.
Meanwhile, Red Shirt protestors determinedly continued to resist security forces, despite the government having declared the rally area as a 'live-fire' zone earlier.
The establishment was also mulling the imposition of a curfew, but there has been no such injunction yet. The casualty count from the clashes continues to rise, and it has now touched 63 according to the BBC, while the number of injured stands at 241, the Bangkok Post reports.
The government had issued a recommendation to all women and children to stay away from the rally site, though this has had little impact on the women's presence as they have ignored the government's plea, saying that they have found sanctuary in a temple where their children will be safe.
Hopes for end to the bloody standoff
Meanwhile, in a significant development that could lead to an end of the impasse prevailing in Thailand, the chairman of the United Front for Democracy against Dictatorship, Veera Musikhapong is now engaged in a peace dialogue with the government. 
The UDD's demands include pulling back of troops, suspending use of force and permitting a United Nmediated truce.
"Veera had sent a letter to UDD core leaders insisting that he is still performing his duty as a co-leader and is now discussing with representatives of the government how to rapidly end political crisis," the Bangkok Post quoted UDD co-leader Weng Tojirakarn as saying.
Weng also refuted government allegations of war weapons being used by agitators, however he conceded that the Red Shirt leaders have no control over their zealous supporters outside of the Ratchaprasong intersection area.
He also said that a few demonstrators want to leave the rally site and that some had already moved out of the rally zone. But this would not affect the rally as most of the supporters still back the UDD, he added.
Image: File photo shows renegade Thai major-general Khattiya Sawasdipol moments before being shot while being interviewed by mediapersons in Bangkok on Thursday
Photograph: Reuters