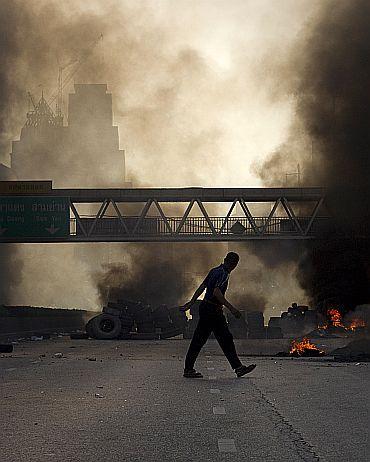 Six people were killed and 31 injured as street fighting continued for the third day on Saturday in the Thai capital with the country's military setting up buffer grounds around protesters demanding Prime Minister Abhisit Vejjajiva's resignation.
With this, the death toll in the street battles in the past three days rose to 23. Emergency services said six people were killed and 31 injured in Saturday's fresh violence.
Thai troops fired at protesters on Saturday as parts of Bangkok's usually vibrant street turned into battle grounds with soliders trying to isolate a sprawling encampment of Red Shirts demonstrators, who want to topple the government and see the premier step down.
Television grabs showed soldiers crouched behind sandbags, firing live rounds at hundreds of unruly protesters who lobbed petrol bombs, rocks and crude homemade rockets.
One person was shot dead in clashes today though it was not clear if he was a medical worker or a protester. The tourism industry is hard hit with major hotels forced to shut down.
The city's business district as well as the shopping areas were closed down for the past couple of days while international schools too shut down. The protesters also set fire to vehicles, and smoke filled many street corners.
A sign at one intersection warned residents not to enter a "live bullet area." Another warned of a "rubber bullet area."
The UN Scretary-General Ban Ki-Moon expressed concern over "the rapidly mounting tensions and violence."
The red shirts began their protest two months ago, demanding immediate elections because they consider the current government to be illegitimate.
Two weeks ago, the government offered a compromise that included November elections and it appeared the protest might end. However, talks fell apart.
Many red shirts support former Prime Minister Thaksin Shinawatra, who was ousted in a coup in 2006. He is on a self imposed exile overseas to avoid a prison term if he returns on charges of corruption.
Thaksin continues to be popular among the urban poor and working class, but the urban elite and middle class do not support him.
Image: A 'red shirt' supporter trying to block army soldiers along Rama IV road in Bangkok
Photograph: Adrees Latif / Reuters