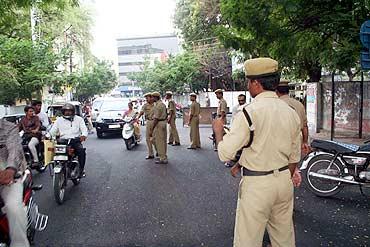 In a suspected terrorist' attack by two un-identified gunmen in the old city of Hyderabad on Friday, a police constable, U Ramesh was killed in a shootout.
Hyderabad city police commissioner Abdul Khayyum Khan said it was a terrorist attack, and expressed suspicion that it was linked to the third anniversary of bomb blast in Mecca Masjid, and the subsequent police firing in which 15 people were killed on May 18, 2008.
The assailants left behind a compact disc, police sources said, but the details of which are not known.
In a similar attack on policemen on May 18 last year, the assailants had left behind a note warning that policemen would be attacked on the anniversary of the Mecca Masjid blast every year and every time there is police firing.
The deceased constable Ramesh belonged to the 11th battalion of the Andhra Pradesh Special Police.
Khan said Ramesh was hit by fired two rounds of fire from close range and was hit in the chest and the back. He was rushed to Osmania hospital where he was declared dead on arrival. Ramesh hailed from Madanapalle in Chittoor district, and his wife Shanta Kumari works as a constable at Punganur police station in Chittoor.
The picket, which came under attack, was under security cover after last month's communal violence and the recent intelligence warning of terrorist attack.
Eyewitnesses said the three masked assailants came on a bike from Khilwat side to Shah Ali Banda Road and opened fire at the constable, and then fled into an adjacent bylane.
Friday's incident was a repeat of last year's attack, when one police constable had been killed and another was injured when two motorcycle-borne terrorists had opened fire at the policemen at Falaknuma.
Khan told mediapersons at the scene of today's incident that the attack took place at around 4 pm when police men had heaved a sigh of relief as the Friday prayers had passed off peacefully.
"Some of the policemen on the picket duty had gone for lunch when unidentified persons had opened fire," he said.
Calling  the incident unfortunate, Khan said while the police had to be vigilant and alert always, terrorists need just one opportunity.
Immediately a red alert was sounded in Hyderabad and neighbouring Cyberabad and police started looking for the suspected persons. Vehicles were being searched extensively.
When asked whether a wanted terrorist Viqaruddin, suspected in last year's attack could be involved in today's incident, Khan said, "It is difficult to say that he has done it. But he is among the suspects. There could be other people who were missing," he said.
The police had been hunting for Viqaruddin for more than a year. He was wanted in the 2009 attack and in another firing incident on December 3, 2008, when he had allegedly opened fire on two policemen at Santoshnagar, injuring them.
He pointed out that after the intelligence warning of a possible terrorist attack in Hyderabad, police was maintaining high vigil and carrying out massive search operations.
During the search operation, the police had arrested a suspected operative of the Lashkar-e-Tayiba Mohammed Ziaul Haq. Police commissioner said Haq was trained in Pakistan and after lying low for many years, he was now planning to carry out attacks in the city.
Third anniversary of Mecca Masjid blast has come at a time when the Central Bureau of Investigation has said that Arvind Gupta and others who were arrested by Rajasthan police in connection with Ajmer blast were also linked to the Mecca Masjid blast.
While the blast in Mecca Masjid during the Friday congregation killed five people, nine others were killed in subsequent police firing on Shah Ali Banda Road. The incident had evoked a strong reaction from the Muslim community and a judicial probe was ordered into the firing. Though final hearing took place about one-and-a-half years ago, the commission was yet to submit its report.
Image: Stringent police bandobast near the shootout site in Old Hyderabad | Photograph: SnapsIndia