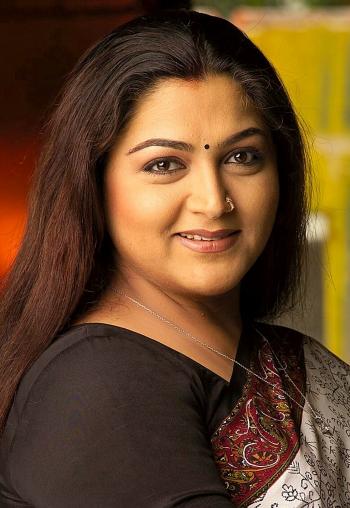 Taking a plunge into politics, popular south Indian actress Khushboo joined the ruling Dravida Munnetra Kazhagam in Tamil Nadu weeks after she won a four-year long legal battle over her controversial remarks on pre-marital sex.
Marking her entry into the party, Khushboo enrolled herself as a primary member in the presence of Chief Minister and DMK patriarch M Karunanidhi at party headquarters in Chennai.
Earlier she had hinted of joining Congress as she said that was her preferred party, however, the 39-year old actress in a surprise move said has decided to join the DMK.
"I never confirmed that I am going to join Congress. I said that I was still thinking of which party to join and I think I have made the right decision," Khushboo told reporters.
About her position in the party the actress said, "I think it depends on my ruling party president. I will leave it to him as to what position he wants to give me, what role he wants me to play."
When asked what could she bring to the table for DMK Khushboo said, "I think I am going to work... I have already said as soon as I had won the Supreme Court verdict that I want to work for the betterment of women. That is going to be my main criteria. I have to work on that," she said.
Prior to meeting Karunanidhi, Khushboo said she mulled for about two years to join politics.
The Supreme Court had last month cleared Khushboo of 22 cases filed against her for her remarks on pre-martial sex in an interview to a magazine in 2005. Khushboo is regarded as of one the finest actresses in south Indian film industry, who has worked in more than 100 film and shared screen space with superstars like Rajnikanth Kamal Hassan, Mammootty, Mohanlal, Sathyaraj and Prabhu.
Later, speaking to reporters Karunanidhi described Khushboo as a "progressive woman", noting this was the reason she joined his party. He said he was fascinated by her acting in the Tamil film Periyar, in which she essayed the role of Maniammai, wife of social reformer E V Ramasamy. "She was totally dedicated to the principles of late Periyar and that was why she could play the role of Maniammi beautifully," he said.
He said Khushboo had been talking to DMK leaders, including himself, for the past one month on joining the party. Asked whether Khushboo would be given an important position in the party, he evaded a direct reply, saying she would be treated like any other member of DMK women's wing. "Myself, Anbalagan (DMK general secretary) and Stalin (Deputy Chief Minister and Karunanidhi's son) have risen to this position through our hard work," he said.
Khushboo said she had joined DMK as she admired the party's principles for the betterment of women, a cause dear to her heart. "So far, I have been expressing my views freely and frankly. But hereafter, I have to measure my words as per the party line," she said.
With PTI inputs