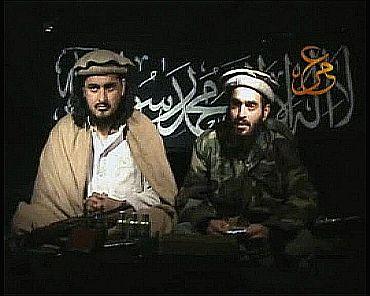 The designation of the Pakistani Taliban, also known as the Tehrik-i-Taliban Pakistan as a Foreign Terrorist Organisation and lumping it with the likes of other Pakistan-based terrorist outfits such as the Jaish-e-Muhammad and Lashkar-e-Tayiba, 'is a no brainer,' and will likely happen before the month is out, senior Obama administration officials told rediff.com.
These officials said that "the legal criteria for such a designation have been put on overdrive," so that the US Secretary of State Hillary Clinton can make this designation expeditiously. They also acknowledged that Congressional exhortation that the TTP be cited as a terrorist organisation in the wake of the botched Times Square bombing attempt by Pakistani American Faisal Shahzad -- who has admitted that he was trained by the TTP in North Waziristan and funded by this group --, 'clearly is a factor in this deliberative process taking on a new urgency.'
On Tuesday, five US Senators, all Democrats, led by Charles Schumer of New York, Kay Hagan of North Carolina, Kirsten Gillibrand of New York, Robert Menendez and Frank Lautenberg, both of New Jersey, wrote to Clinton to designate the TTP as a terrorist organisation given that the group has been implicated in the Times Square bombing scare on May 1.
Attorney General Eric Holder announced on May 9, that US intelligence indicated the TTP had helped train and finance Shahzad who allegedly drove a bomb-carrying Nissan Pathfinder into the heart of Times Square.
The lawmakers said that this linkage -- together with documented threats made by the leadership of the TTP against US cities, and evidence that the group has allied with Al Qaeda, warrants its official designation as a terrorist organisation from the US State Department.
"The Pakistan Taliban," they said in their missive to Clinton, "is a murderous organisation dedicated to killing civilians, harming US interests in the region, and has even taken credit for terrorist acts committed on US soil."
The Senators recalled that "in a video recorded in April 2010, a representative of the Taliban in Pakistan indicated that this organisation would make cities in the United States a 'main target.'"
They argued, "We believe it is crucial that government officials use every available opportunity to highlight the importance that FTO designations play in our fight against terrorism," and said, "Designating the Pakistani Taliban as a foreign terrorist organization would be an effective means of curtailing support for their terrorist activities and pressuring other groups to withdraw their logistical, financial and political support for this terrorist organization."
Since 2001, the Senators pointed out, the Pakistani Taliban had "committed atrocities aimed at NGO workers, government officials, law enforcement authorities and innocent civilians. Additionally, the Pakistani government implicated the network in the December 2007 assassination of (former Prime Minister) Benazir Bhutto and, in January 2008, the US Central Intelligence Agency also confirmed its belief of their involvement in the assassination."
The lawmakers said that according to recent reports, the TTP "has made efforts to combine forces with Qaeda and other terrorist group, threatening to extend their reach and murderous acts."
The Senators said, "FTO designations play a critical role in our fight against terrorism and are an effective means of curtailing support for terrorist activities and pressuring groups to get out of the terrorism business," and hence urged Clinton "to immediately take the necessary steps to designate the Pakistani Taliban as a foreign terrorist organization by adding it to the State Department's FTO list."
State Department spokesman P J Crowley said, "We are considering the question of designating the Pakistani Taliban (as an FTO). Now it is a matter of meeting the legal requirements."
"There's a deliberately -- or intentionally deliberate -- process that we go through and it -- any group that is to be designated must meet very specific legal criteria. But it is something that we are considering in light of what happened (with the Times Square case). And obviously, the investigation will yield information that might give us greater clarity."
Crowley denied that the US had not been cognizant of the threat posed by the Pakistani Taliban and asserted that "it is a group that we have been focused on for some time, but I think in light of the Times Square attempt, it is something we are looking at very closely."
"I can't recite the history of this particular group," he said. "As a group it has not been in existence for that long. But obviously, it has come into sharp relief in light of the Times Square bombing and this is something that we are actively considering."
Designations, which last for two years and must be renewed, are made following an interagency process involving the State, Justice, Homeland Security, and Treasury Departments. By law, the designation requires that three conditions are met: The organisation is foreign; the organisation engaged in terrorist activity; and the terrorist activity threatens the security of American citizens or the national security of the United States.
The Senators said in their letter to Clinton that the TTP clearly meets all three criteria and reiterated that this designation be immediate and the administration move quickly to criminally prosecute the TTP financial backers and ban any group members of supporters from entering the US.
Image: Pakistan Taliban leader Hakimullah Mehsud (L) sits beside an alleged suicide bomber in this still image taken from video released on January 9, 2010. 
Photograph: Reuters