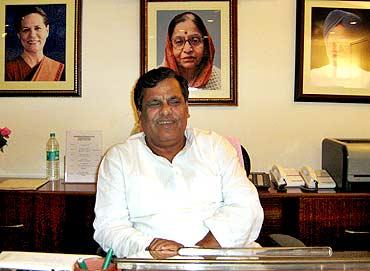 S
rikant Kumar Jena
was a Union Cabinet minister nearly 14 years ago; now he is a minister of state (for chemicals and fertilisers) in Dr Manmohan Singh's ministry. The 60-year-old politician is a fourth-time MP from Balasore in Orissa.
After spending the entire day in Parliament during the Budget session, he spoke to rediff.com's A Ganesh Nadar about serving under M K Alagiri, the Cabinet minister for chemicals and fertilisers who has reportedly been missing from the capital for most of the year, Naxalism and whether the Congress party has become arrogant again.
What are your duties as minister of state?
There is the system where the Cabinet minister (M K Alagiri) demarcates the work for the MoS (minister of state). It is the same for all MoS. I look after the parliamentary work of all the three departments under this ministry -- chemicals, fertilisers and pharmaceuticals.
How do you co-ordinate with your Cabinet minister?
There is no need for day to day co-ordination. I look after parliamentary issues. He never interferes with it. I know the answers that have to be given to questions asked in Parliamanent. If not, I ask the concerned secretary and he gives me the details.
There are some files that I see, and there are some files that he has to sign. Those they send to him and he does the needful.
There was an uproar in Parliament recently about your Cabinet minister's absence in the Lok Sabha. It must have taken all your political experience to handle that. How did you do it?
I had absolutely no problem. The problem was not with me. They were not objecting to me answering questions, they were protesting that the Cabinet minister was not there.
Finance minister (Pranab Mukherjee) has replied in Parliament that the minister had informed the prime minister about his whereabouts. It had nothing to do with me.
Does the work of the ministry suffer because one of the ministers is not around?
It's not that he has not come to the ministry. He has come, but not frequently. Once a policy is decided, then the minister delegates. The Cabinet decides on policy matters. Once that is done, the secretaries and joint secretaries in the departments implement that policy.
The minister does not have to be here every day. The ministry does not suffer by his absence. He is needed when the policy is being formulated and then the concerned department takes over.
Fourteen years ago you were a Cabinet minister, how did you accept a minister of state-ship?
I have explained my views to the Congress president and the prime minister. These are the compulsions of coalition politics. I hope it is rectified when the prime minister desires.
You have been in politics since your student days, are you not tired of it all?
In politics, nobody is tired.
People on their deathbeds indulge in politics. It is so invigorating, nobody gets tired of it. (Laughs.)
The fertiliser subsidy is a huge amount. Many people feel that giving it to the manufacturers is wrong. Many feel the farmer should get it according to his land holding, what do you think?
I know a lot of people feel like that. But it is a very difficult proposition. There are a lot of absentee landlords who lease out their fields. Then whom do we give the subsidy to? We will have to first enumerate the actual farmers and then take this step. It will take a lot of time and is not possible just now.
You also have to take into account the quality of the land. A farmer in Punjab uses much more fertilisers than a farmer in Jharkhand. Even within a state some lands require lots of fertilisers and some require less. We cannot ad hoc decide fertiliser subsidy per hectare across the country and give it. It requires detail study of land, ownership, lease holding and then only can we think of giving subsidy directly to the farmers.
Have you been able to do anything for your home state?
There is only one fertiliser plant there, and that too is closed. We are trying our best to revive that. It is the only urea plant in east India. There is only one PSU (Public Sector Unit) in the pharma industry there. That is a partnership between the central and state governments -- ODCL. That too is sick and closed down. We are trying to revive that.
The big pharma manufacturers are all on the west coast. In this sector, the east coast has been totally neglected. There are small pharma manufacturers in Orissa but none of the big players are there. States like Himachal Pradesh and Uttarakhand are giving lots of incentives and pharma companies are setting up plants there. Let us see what we can do for the east coast.
What are your priorities in this ministry?
Almost the entire chemical industry is in the hands of the private sector. For fertilisers my priority is to see that it is available to the farmer when he needs it. Once the rains come and the agriculture season starts, fertilisers must be available at that point.
Also, we need to teach farmers what nutrients his particular soil needs and also how much. This is where the fertiliser ministry and agriculture ministry work together.
The amount of fertilisers needed in our country is huge, and involves a big effort to make it available across the nation where and when it is needed at the right price and the right amount.
In pharma, we are trying to encourage generic medicines. In the last one year there has been some push in this direction, but I am not satisfied. It requires greater impetus.
Generic medicines cost less than half of branded medicines and they are as good. The public needs to know that.
All members of Parliament want these generic medicines to be sold in their constituencies. They know they are cheaper and good. In the coming years we will give it a lot of importance.
What is needed to make India self sufficient in fertilisers?
We are already producing 80 percent of our urea needs. We can make that 100 percent. But the cost of production in India is high. We have to bring that down. Much depends on the price and availability of natural gas for this. Potash and phosphates we cannot produce here because the raw materials are not sufficiently available here.
We are encouraging Indian companies to put up plants in countries where they can produce potash and phosphates. When they export it into India, we will give them the subsidy we give to other fertiliser units here. Thus they are assured of a market. You have to realise that these units require massive capital and the private sector will not invest if we do not help them.
Orissa has its share of the Naxalite problem. How would you handle it?
Naxalism is an outcome of neglect. People in those areas have not got the opportunities that the rest of the country has got after Independence. They are feeling dejected and rejected and that is how Naxalism has become entrenched.
The prime minister has said that development is the answer to this problem. That is how we will handle it. We will bring development to these areas and thus neutralise the Naxalite movement.
How would you compare United Progressive Alliance-1 to UPA-2?
UPA-2 is a continuation of UPA-1. UPA-2 is implementing the promises we made in our election manifesto to the electorate. The right to education legislation is the most important bill we have already passed. The food security bill, which is now under consideration, will be of immense help to the common man.
Do you think that the Congress party has become more arrogant in UPA-2 than in UPA-1?
(Smiles.) That is not the issue. It's not like that. It is not arrogance. It is your perception. In politics there are certain compulsions. People want fast results. They want everything immediately. When that does not happen they think us arrogant.
Image: Minister Srikant Jena in his office. Photograph: A Ganesh Nadar