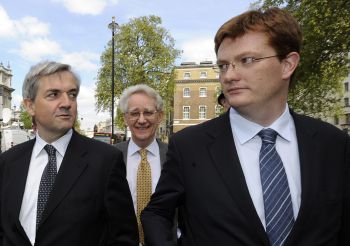 Britain may witness another general election if the major political parties are unable to strike a deal to stitch up a coalition government before May 25.
The three major political parties, the Conservatives, the Labour and Liberal Democrats, have 15 days to try to thrash out a deal to form the next government before the country faces the prospect of a second general election, the Telegraph reported.
Under a new set of guidelines put in place by the civil service, incumbent Prime Minister Gordon Brown could remain in 10, Downing Street until May 25, the day of the Queen's Speech.
By then, either Brown, Conservative leader David Cameron or Liberal Democrat chief Nick Clegg has to prove that he has the confidence of the House of Commons.
The unusually long period between the election result and the Commons sitting has been agreed by Sir Gus O'Donnell, the cabinet secretary.
Gus, the country's most senior civil servant, presciently drew up a set of rules earlier this year, anticipating the possibility of a hung parliament.
Previously, there had been no written guidance on what should happen in the event of no single party having an overall majority of MPs.
The new guidelines set out in an updated Cabinet Office manual are designed to try and ensure that the country is not forced to immediately go to the polls again almost in the event of no one party winning an overall Commons majority.
The extra time is designed to allow the three main parties to try and reach agreement to see who can form a government. Negotiations between the Conservatives and Liberal Democrats are currently on to form a coalition government after the May 6 elections threw up a hung parliament.
The Conservatives emerged as the single largest party with 306 seats in the 650-member House of Commons. The ruling Labour got 258 seats, while Liberal Democrats won 57 seats.
To form a government, a party needs 326 seats.
Under constitutional convention, Brown could request a second dissolution of Parliament if he does not win a vote of confidence when Parliament sits again. That would normally trigger a second general election, the paper said.
The Queen is not obliged to grant that second dissolution and would be reluctant to do so. Instead, at that point she is likely to ask David Cameron if he can form a government.
Image: (From left) UK's Liberal Democrat chief of staff Danny Alexander, MP Andrew Stunell, and home affairs spokesman Chris Huhne leave after a meeting with Conservatives partymen in London on Monday | Photograph: Paul Hackett / Reuters