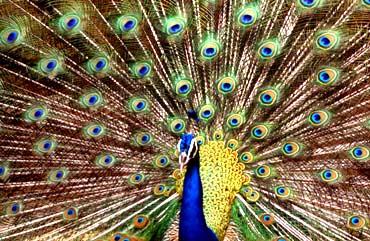 Union Environment Minister Jairam Ramesh on Monday announced a proposal to ban trade of peacock feathers to protect the national bird from illegal poaching and killing.
Inviting comments before imposing 'a comprehensive ban on the sale, transfer and trade of peacock feathers,' the environment and forests minister said this is in response to numerous requests from various stakeholders.
"It has been brought to the ministry's attention that the demand for the feathers outstrips the supply leading to the rampant poaching and killing of the birds for the purpose of their feathers," Ramesh said.
It said the Wildlife Protection Act, 1972, shall be amended to remove exemption granted to the peacock owners under Sections 43(3)(a) and 44 for transfer and sell of the tail feathers and articles or trophies made from them.
While the act already prohibits killing of peacocks as well as export of tail feathers or articles made from them, it allowed domestic trade in them so far under the assumption that these are naturally shed, the ministry said.
Image: A peacock displays its splendid plumage in Kolkata zoo
Photograph: Reuters