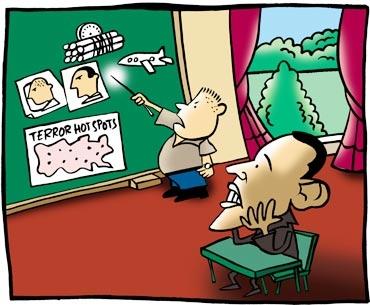 Every Tuesday, the most powerful man in the world does what millions of Indian children do every day. He takes tuition.
In Terrorism.
Every week, United States President Barack Obama, according to the Washington Post, attends a secret briefing in the White House Situation Room.
Along with senior members of his administration, Barry -- as he used to be known in school and college; he now likes the formal Barack -- listens attentively as a group of US security and intelligence officials agencies give him tutorials about global terror networks, their activities, likely targets and the action being taken against them.
The practice of 'Terror Tuesday' started in the wake of the 9/11 attacks when administration officials briefed then president George W Bush almost daily on the war against terror, the hunt for Osama bin Laden and steps taken to prevent such terror strikes in the future, the Post report said.
The daily briefings were later converted to weekly briefings, held on Tuesdays. The practice continued after Obama took over the presidency, according to the Post.
Among those who attend the class on terror are Federal Bureau of Investigation Director Robert Mueller; Michael E Leiter, director of the National Counterterrorism Centre; Central Intelligence Agency Director Leon Panetta, National Security Agency Director Keith B Alexander, Homeland Security Secretary Janet Napolitano, Attorney General Eric H Holder, Defence Secretary Robert M Gates and Secretary of State Hillary Clinton.
Before the class, Obama receives a dossier on the topic to be discussed that day, along with maps, photographs and blueprints, the Post said.
The meeting also covers issues that fall beyond the purview of intelligence and security concerns like the radicalisation of American citizens (a hot button topic after Pakistani-American Faisal Shehzad's arrest this week for the abortive Times Square attack) or non-cooperation by other nations in anti-terror operations.
Initially, the CIA, FBI and DHS bosses wanted to update Obama on America's counter-terrorism efforts, but after the attempted bombing of a Detroit-bound flight in December, says the Post, the meetings have become more specific and often focus on a single incident or event.
This Tuesday, the class is likely to have focused exclusively on Shehzad's plan to plant a bomb and create havoc in the New York City landmark area.
Illustration: Uttam Ghosh