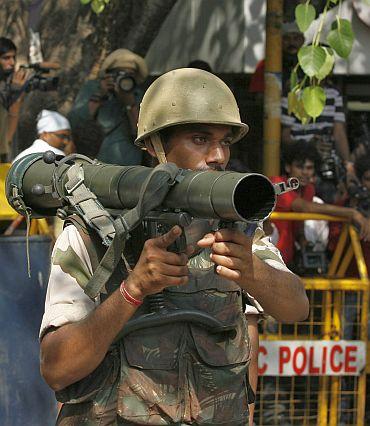 All eyes are on Mumbai as the fate of Ajmal Kasab will be decided in a little while. Security in and around Mumbai is at its best with the Intelligence bureau sounding off a warning that terrorist groups may try and disrupt the ongoing proceedings in the court.
The Mumbai Police had come in for a lot of flak when they fought the ten gunmen sporting AK-47 rifles with lathis and outdated guns. After several deliberations and various sanctions, the police were directed to form a quick response team with state of the art machinery.

This Rs 120 crore project gave the Mumbai police a boost and it was able to recruit 900 persons for the quick response team, which now sports state of the art weapons that have been imported from the United States of America and Germany.
Even as the judge gets underway to pronounce the verdict, apart from the host of policemen guarding the city, there are five teams of the quick response team and the force one around the city. The quick response team is equipped with pistols (Smith and Wesson), bullet proof combat vehicles, grenade launchers.
The Mumbai police say that the city is vulnerable to attacks by terrorists and underworld elements. There was a need for a highly trained, motivated, young, fit and fully equipped team to tackle such groups and terminate hostage situations. This team responds without a time lag, moves faster and acts to collect information and neutralise the threat apart from acting swiftly in a hostage crisis.
The grenade launcher is one of the most interesting weapons that one gets to see with the force, which operates in the city. Such a weapon is usually seen in war torn areas and not in cities. Police officials say that grenade launchers will always be the last to be used in case of an extreme situation, especially in the city.

Firing a grenade is not that easy, as it could endanger the lives of the various innocent bystanders. If one may recollect, Ajmal Kasab and his partner had stolen a car and wrecked havoc in the city on 26/11. The police found it difficult to catch up with them and in a situation such as this the grenade launcher would come handy. It would also be used to neutralise terrorists who could come in groups and start opening fire, police officials also say.
Some police officials, however, maintain that posing with such weapons is more of a show of strength. The last time the police force was mocked no end for using lathis against such sophisticated weapons. There is no way that terrorist groups should be under the impression that it is easy to walk through the force.
The use of sophisticated machinery is aimed at sending across a strong signal to such outfits and would act as a deterrent to such terrorist groups.

A thick security blanket has been thrown in areas in the vicinity and checkpoints and security bunkers have been set up at all major junctions in the city.

Till now, the government has spent over 35 crore rupees for his safety.

Image: A paramilitary trooper patrols outside Arthur Road Jail.
Photograph: Arko Datta/Reuters