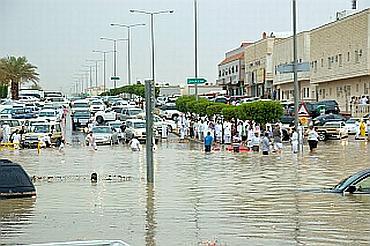 Torrential rains have bought Saudi Arabia' capital Riyadh to a halt. Al Jazeera said that a downpur on Monday caused flash floods and sumerged some of the cities main intersections which led to long traffic jams. one person was reported missing and 155 were rescued by emergency services.
The government has declared a state of emergency. The rains are reported to have caused 275 traffic accidents. Schools colleges and offices have been shut.  This the third instance of flooding in the kingdom in the last year. A flash flood, one month ago had killed seven people.
Flights at the King Khalid airport were not affected by the rains.
Image: Traffic blocked along a road in Riyadh after Monday's torrential downpour.
Photograph Courtesy:  Twitter