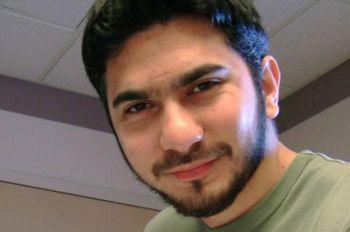 More and more details -- some of them shocking -- are emerging about the man who tried to blow up the Times Square in New York.
A report from Islamabad says Faisal Shahzad is the son of a retired air vice marshal of the Pakistan Air Force.    
Meanwhile, Reuters has released Faisal Shahzad's picture -- undated though -- obtained from Orkut, a social networking site. (See the picture alongside)
In another crucial development, The Geo News channel in Pakistan claimed Shahzad is the son of Air Vice Marshal (retired) Baharul Haq, who also served in the civil aviation department. However, his family has rejected any terror links. 
Shahzad's parents live in the posh Hayatabad area in Peshawar while his ancestral home is at Pubbi of Khyber-Pakhtoonkhwa province, the channel reported.
Shahzad's relatives said he was married and had two children. They said he had gone to America for studies some time ago.
Shahzad last visited his ancestral home at Pubbi some six months ago to attend a wedding, his cousin Sarirul Haq said.
Kifayat Ali, another cousin, said he was one of the two sons of retired air force officer Baharul Haq.
"I was definitely shocked on hearing this news (of Shahzad's arrest). All people who knew the family were shocked," said Ali.
Shahzad's father was an upright air force officer and his son "never had links with political, religious or terrorist groups," Ali said.
"The whole family had no links to political parties. This is all a part of the conspiracy launched against Pashtuns in the wake of the 9/11 terror attacks," he claimed.
Asserting it was indeed an act of terror, the US said it was a clear ploy aimed at murdering Americans in one of the busiest places in their country.
# Also Read: How Times Square 'bomber' was arrested
# 'Pakistani-American had links with overseas radical elements'

Image: Faisal Shahzad's picture obtained from Orkut by Reuters.