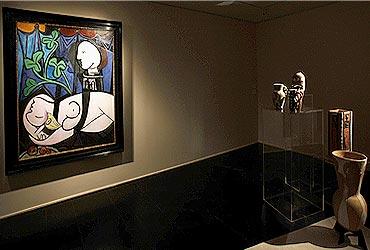 Spanish artist Pablo Picasso's painting 'Nude, Green Leaves and Bust' has been auctioned off at a record $106 million.
The artist's 1932 picture, which belonged to the late Los Angeles collectors Frances and Sidney Brody since the 1950s, was sold at Christie's auction house in New York.
The winning bid, made by an anonymous telephone bidder, breaks the record held by Giacometti's Walking Man I, which was sold for $104.3 million.
Another work by Picasso, Garcon a la Pipe, had previously held the record when it sold for 104.1 million dollars in 2004.
The record-breaking sale, which includes Christie's commission, indicates the recovery of the art market from the global financial crisis.
"The Brodys bought it in the 50s. It was only exhibited once in 1961," the BBC quoted Conor Jordan, the head of Christie's impressionist department, as saying.
Image: Pablo Picasso's 1932 'Nude, Green Leaves, and Bust' is seen at Christie's auction house in New York | Photograph: Shannon Stapleton/Reuters