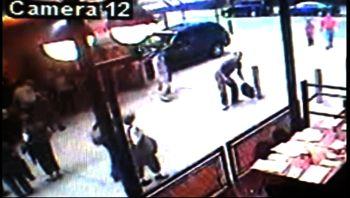 A Pakistani-origin US national has been arrested while trying to board a flight to flee the country after a failed terror plot to explode a car bomb in the heart of New York's busy Times Square, US Attorney General Eric Holder said on Tuesday.
The man identified as 30-year-old Shahzad Faisal, a naturalised US citizen and resident of Connecticut, was arrested from New York's John F Kennedy International Airport as he was about to board a flight to Dubai, he told the media in Washington at a hurriedly called press meet at 1.30 am local time.
"Shahzad Faisal was arrested in connection with the attempted car bombing in New York on Saturday," he said at the media briefing, which lasted less than two minutes and no questions were taken.
Official said his final destination was Pakistan.
"Over the course of the day (Monday), we have gathered significant additional evidence that led to the arrest, which was made by agents from department of homeland security's customs and border protection," Holder said.
The Federal Bureau of Investigation said Faisal was taken into custody at about 11.45 pm local time on Monday.
"Agents of the Federal Bureau of Investigation and detectives of the New York City police department arrested Shahzad for allegedly driving a car bomb into Times Square on the evening of May 1, 2010," said a statement issued by the US department of justice.
Refraining to divulge any further details, Holder said the investigation is ongoing.
"This investigation is ongoing, as are our attempts to gather useful intelligence, and we continue to pursue a number of leads. But it's clear that the intent behind this terrorist act was to kill Americans," he said.
As the investigation continues, by an interagency team of officials led by the FBI, Holder said urged Americans to remain vigilant.
"The vehicle in Times Square was first noticed on Saturday by a citizen who reported it to authorities, and, as always, any American who notices suspicious activity should report it to the appropriate law enforcement agencies," he said.
"This investigation is ongoing, it is multi-faceted, and it is aggressive. As we move forward, we will focus on not just holding those responsible for it accountable, but also on obtaining any intelligence about terrorist organisations overseas," Holder said.
"The defendant will appear in Manhattan federal court on May 4, 2010, at a currently undetermined time to be presented on formal charges. No further details are available at this time," the DOJ said.
Applauding the collective work of the New York joint terrorism task force, US Attorney Preet Bharara, said, "The investigation remains very much ongoing and the dedicated agents, detectives and prosecutors on this case will continue to follow every lead and use every tool to keep the people of New York City safe."
A resident of Connecticut, Shahzad, had become a US citizen about a year ago.
Investigating authorities said he used cash to purchase the Nissan Pathfinder that was set ablaze but failed to detonate Saturday night on a tourist-crowded block in Midtown Manhattan.
Investigators said the plan was an intended terrorist attack to set off explosives in the heart of midtown Manhattan on Saturday night, but the individuals didn't have the expertise to detonate their device.
The CNN said investigators are examining phone records of businesses that sell some of the bomb's components and chasing leads in "several locations" on the East Coast and beyond.
A federal law enforcement official, to whom CNN spoke, would not say whether any of the leads were in other countries, and cautioned that the investigation could take "a few more days or weeks."
The ABC News reported that there is growing evidence the bomber did not act alone and had ties to radical elements overseas.
One senior official told the news channel that there were several individuals believed to be connected with the bombing and that at least one of them is a Pakistani-American.
Authorities had launched a massive manhunt with the FBI's anti-terror unit and New York police to try to catch the would-be bomber.
Image: A surveillance photo shows a man with a bag removing a shirt near Times Square he is suspected of leaving a car bomb in a footage released on May 3, 2010 | Photograph: Reuters