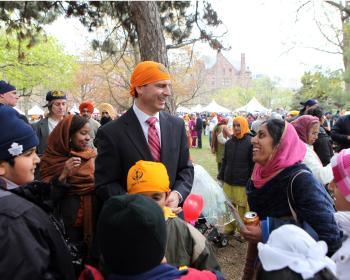 The Sikh community left behind the clouds cast by infighting in gurudwaras and extremism for the Baisakhi parade in Toronto, April 25.
About 80,000 to 100,000 people marched to Queen's Park, seat of the Ontario government, where they were received by Ontario Premier Dalton McGuinty. 
Unlike the Surrey parade, which was boycotted by political leaders due to threats against Liberal Member of Parliament Ujjal Dosanjh and Liberal Member of British Columbia Legislature Dave Hayer, the Toronto parade was attended by several members of McGuinty's cabinet, including Harinder Takhar, government services minister; Andrea Horwath, leader of New Democratic Party (Ontario); Jason Kenney, federal citizenship and immigration minister, and Liberal leader Michael Ignatieff.
"Today, we mark the 311th anniversary of the birth of the Sikh community in India and celebrate a people that have flourished in Canada and here in Ontario,' McGuinty said. 'Ontario needs our Sikh community to continue to be united because that brings a stronger Ontario.'
There was a huge police presence at the parade, but there was no untoward incident.
'Our diversity defines us, but it never ever divides us,' McGuinty said. 'It is our way, the Ontario way. And it is the envy of the people around the world… We know that whether our families have been here for decades or days… we are all the same with the same hopes and dreams.'
Jack Layton, leader of the federal NDP, said, "For over a century, Sikhs have been contributing to the strengths of this country," adding that his party had for a long time supported the need to recognize their contributions. At the Baisakhi parade, he said, 'We reflect on the Guru's vision of personal and community development.'
'This year, amongst all the negativity, we came out with a positive aspect of Sikhism,' said Manjit Parmar, parade coordinator for the Ontario Sikh and Gurdwara Council, the organisers of the parade.
Image: Ontario Premier Dalton McGuinty received the parade at Queen's Park, the seat of the Ontario government.