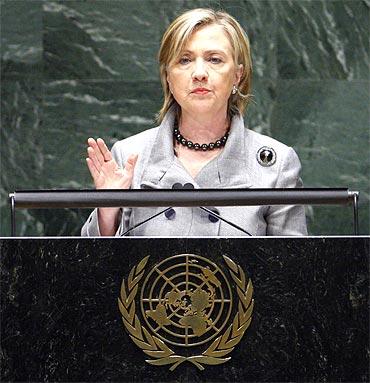 In an expected showdown, Iranian President Mahmoud Ahmadinejad and United States Secretary of State Hillary Clinton launched a verbal attack against each other at a Nuclear Non-Proliferation Treaty meeting at the United Nations on Monday.
In his 35-minute speech at the NPT Review Conference, Ahmadinejad slammed Washington for bullying Tehran over its nuclear programme while not pushing the 'Zionist regime' (Israel) for getting rid of its nuclear weapons. Israel does not confirm or deny possessing a nuclear arsenal.
"Regrettably, the government of the US has not only used nuclear weapons but continues to threaten to use such weapons against other countries including Iran," he said, adding the "Zionist regime, too, consistently threatens the Middle Eastern countries".
Taking the floor a few hours later, Clinton dismissed the Iranian leader's charges as 'wild accusations' and accused Tehran of 'flouting the rules' of the NPT. She said it is "time for a strong international response."
Iran has "cynically claimed to be abiding by the treaty while violating its safeguards, expanding its enrichment programme, failing to cooperate with the International Atomic Energy Agency and ignoring the injunctions of the Security Council," she said.
Ahmadinejad earlier slammed the United States and other Western powers for exploiting the Security Council and the IAEA to fulfill their own nuclear ambitions.
"Enjoying special privileges in the highest global security decision making body and in the IAEA, certain nuclear weapon states widely exploit these forms against the non- nuclear weapon states," he said.
Ahmadinejad also proposed several changes to the NPT regime and the IAEA, including removing of all nuclear states from the Board of Governors of the nuclear agency.
"Their presence and political influence have so far prevented the IAEA from performing its mandate," he said.
Clinton, in turn, accused the Iranian president of diverting attention from his government's failure to abide by the international obligations and evading accountability. "But he will not succeed," she said.
"Time and again, the Iranian government has tried to make its own failures to abide by its duties into an issue between Iran and the US.  But this conference itself underscores that the issue at stake is much larger. It is about the responsibility of all nations, including Iran, to comply with their international obligations and to advance rather than undermine regional and global security," Clinton added.
The NPT review conference is held every five years to assess the progress in reaching the goal set out in the 1970 treaty to disarm and stop the spread of nuclear weapons.
Image: US Secretary of State Hillary Clinton addresses the Nuclear Non-Proliferation Treaty Review Conference at United Nations Headquarters in New York | Photograph: Chip East/Reuters