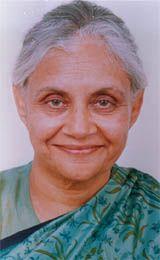 Describing Delhi as one of the 'safest' cities in India, Chief Minister Sheila Dikshit on Tuesday said the law and order situation has improved in the national capital quite significantly in the last one year.
Quoting findings of a study, Dikshit said, "Delhi has been described as the safest city amongst 37 cities in the country in the latest survey conducted by the Confederation of Indian Industry and another independent agency."
She was replying to a short duration discussion in the assembly about the law and order situation in the capital.
The crime rate in the city is lowest compared to other international cities, she said.
Refuting Bharatiya Janata Party's charge that Delhi has become the 'crime capital' of the country, Dikshit said there was a 'general perception' a year ago that crime rate was on rise in Delhi but the survey has clarified it substantially.
"There has been a decrease in number of crime cases except cases relating to motor vehicle theft," she said adding that the increase in number of population and 'porous border with neighbouring states' were some of the reasons behind crimes in the city.
Talking about steps taken to improve security system ahead of the Commonwealth Games, she said police has been installing CCTV cameras and has been taking a number of measures to prevent incidents of crime in public places.
About incidents of rape, Dikshit said it has been found that in 97 per cent such cases persons within household, neighbourhood and other known persons are involved in such incidents.
"There are only 2.7 per cent cases in which strangers have been found involved. It is also on record that no case of rape has been reported from 32 police stations in the city," she said.
"It makes clear that rape cases are taking place in certain selected areas," she added.
She said Delhi Police has created 11 new police districts, nine new police sub-divisions and 40 new police stations in the city in the last couple of years.
On the traffic situation in the city, Dikshit admitted that were problems that needs to be addressed.
"Delhi Police has appointed a Special Police Commissioner for traffic. Non-functional traffic lights are being replaced with new ones. Traffic on BRT route is now very smooth," she said.
The city government has commissioned a number of foot-over-bridges and flyovers whereas zebra crossings for pedestrians are being improved. There has been a sea-change in traffic during last 15 days, she said.
While referring to concerns expressed by BJP leader Harshvardhan about women's safety, Dikshit said Delhi Police has commissioned a 24x7 helpline for women, another 24x7 all women mobile team to ensure protection of the fairer sex.
"They also deploy PCR vans near women colleges. Prompt action is being taken for safety of girls from the North East besides setting up a special cell to look into problems of students from the region," she added.
The Chief Minister said Delhi Police has been conducting surprise checks to overcome incidents of eve-teasing and police personnel in plain clothes being deployed at various places to catch the culprits.
"7,000 girls have been imparted self-defence training and women constables have been deployed under 'Parivartan' scheme of the police," she said.
Dikshit assured that the views expressed by the members who moved the short-duration discussion will be passed on to the Union Ministry of Home Affairs.
"You know that police is not with us. But still you always raise the issue in the assembly. We will convey your views to the Home Ministry," she added.
While initiating short-duration discussion Harshvardhan described Delhi as a "crime capital" and suggested a common Police Commissioner for entire NCR region.
The senior BJP leader said the crime rate in the capital has gone up substantially and wondered why the city government was not in favour of making Delhi a 'full state.'
"It is very surprising that the Chief Minister now do not speak about making Delhi a full state. Earlier, she had demanded full statehood for the national capital," he said.
Another BJP legislator H C L Gupta slammed the government for deteriorating law and order situation.
Earlier BJP MLAs protested absence of city Police Commissioner Y S Dadwal saying he should have been present in the House during the discussion on law and order. The BJP MLAs relented when they were told that Dadwal will arrive in the House soon.
Image: Delhi Chief Minister Sheila Dixit