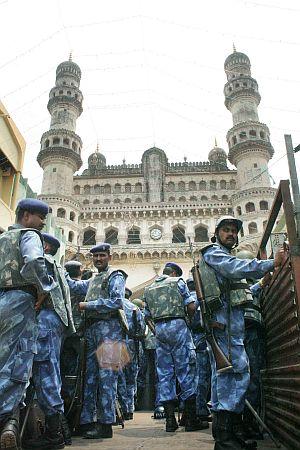 With communal violence spreading to many more areas of Hyderabad city and miscreants killing another man on Tuesday, the authorities have clamped curfew in the limits of eight more police stations.
Communal violence erupted in the sensitive area of Karwan where a passer-by was stabbed to death. Rioters also threw stones at a police patrol party led by an assistant commissioner of police.
The city police commissioner A K Khan said that indefinite curfew was clamped in eight police stations limits including Afzalgun, Begum Bazar, Bibi Nagar, Asifnagar, Kulsoompura, Tappa Chabutra and Mangalhat.
The decision was taken after the latest fatal stabbing which has taken the number of deaths in four days of violence to two. More than 100 people have been injured and three hundred have been arrested. 
Earlier, communal clashes continued in Hyderabad as the trouble spread to new areas including RTC crossroads, Musheerabad, Bholakpur, Ramgopapet and Begum Bazar.The trouble broke out during a procession by Bajrang Dal on the occassion of Hanuman Jayanti on Tuesday. The fresh violent incidents have left at least 25 people injured, 15 of them in Musheerabad.
Miscreants attacked, burnt and damaged at least 20 four wheelers, 30 bikes and several push carts parked by the roadside.
Clashes between two communities erupted as the massive Hanuman Jayanti rally taken out by the Bajrang Dal took a violent turn. When the procession was passing through Bholakpur and Musheerabad area, some miscreants went on a rampage attacking shops and damaging autorickshaws.
With the groups of both communities taking positions on the street corners and pelting stones, the area turned in to a virtual battlefield. The situation was brought under control only after the police and Rapid Action Force swung in to action and fired in the air.
Later locals told reporters that the trouble was created by miscreants from outside."The people who indulged in stone pelting and attacks were not locals," said Syed Hasaham, a local businessman in Musheerabad. Venkatchary, another businessman said that allowing such a big procession in the present circumstances was unwise.
One procession was stopped by the police in Begum Bazar area after communal clashes broke out and people indulged in heavy stone pelting. The police lathi-charged the mobs to bring the situation under control.
As a precautionary measure, shops were also closed in Malakpet, Musaram Bagh and other adjoining areas which were not under curfew. Hyderabad city police commissioner A K Khan after visiting the affected areas of Musheerabad and Bholakpur areas, said that the situation was brought under control quickly.
He said religious processions were allowed taking into consideration all the factors, and strict security arrangements were made.
Image: Rapid Action Force personnel patrol the Charminar on Tuesday.
Photograph: Snaps India