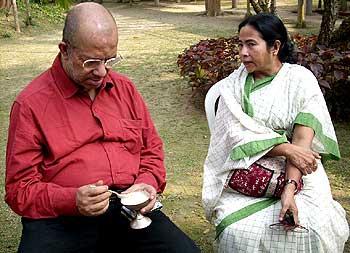 In a late evening development on Tuesday, Magsaysay award winner writer and social activist Mahashweta Devi told singer-turned-politician Kabir Suman to 'hold' his 'written resignation from the Trinamool Congress and the Lok Sabha for two days, for the sake of Lalgarh -- we want to discuss with you.'
Earler, noting that being in Trinamool Congress is "like living without dignity", MP Kabir Suman remained firm on his decision to quit the party. Suman, whose sympathetic stand towards Maoists and outbursts against alleged in-house corruption embarrassed the party, had sent an SMS to party chief and Railway Minister Mamata Banerjee Monday night announcing his resignation from the party as well as the decision to quit from the Lok Sabha.
Addressing a press conference on Tuesday, he said, "I will send my views to the party in writing today." The press conference at his home at Baishnabghata in south Kolkata was cut short after Trinamool Congress workers barged in and urged him not to leave the party.
As chaos prevailed, the singer-turned-politician said, "I am a people's representative and I will decide how and where I will spend my MPLAD funds to meet the basic necessities of the people, like road improvement and water."
Singling out Mamata Banerjee's loyalist and party councillor Sobhan Chatterjee for interfering in his work, he alleged, "remaining in the Trinamool Congress is like living without dignity ... I have been elected by the people to serve the people and not to serve the party. I am a slave to the people and not to the party."
Stating that he was frequently insulted and humiliated within the party, Suman said, "I am a seriously independent person. I should not remain in a political party. "I composed a music album that caused all the problems," he said, referring to Chhatradharer Gaan eulogising arrested People Committee against Police Atrocities leader Chhatradhar Mahato.
He, however, claimed that Mahato had consulted party chief Mamata Banerjee during the tribal movement. "I didn't want the Communist Party of India-Marxist to take advantage of this." However, the Trinamool chief in the past had denied links with Mahato.
Asked about his alleged Maoist links, Suman shot back, "I don't know from where Maoists come." Suman's album on Mahato was not approved by the party chief and the singer's sympathy for Maoists had put her in an uncomfortable situation.
The singer MP who is against the current anti-Maoist operations in West Midnapore and which he has highlighted in Chhatradharer Gaan said, "torture is being perpetrated on the innocent people of Lalgarh."
Suman said that Mamata Banerjee whose slogan was Ma, Mati, Manush (mother, earth and humanity), should have taken a stand on PCPA President Lalmohan Tudu who was shot dead by the police in an alleged encounter. He expressed regret that he had to support several 'anti-people bills in Parliament a number of times' and said he wanted to quit the Lok Sabha.
He reiterated that he had not contested the Lok Sabha elections from Jadavpore on his own volition. "It was at the earnest request of Mamata Banerjee that I filed the nomination papers for the parliamentary election. I did not want to contest. "But, when I did, I defeated formidable CPI-M candidate Sujan Chakraborty by 58,000 votes."
Image: Kabir Suman with Trinamool Congress chief Mamata Banerjee