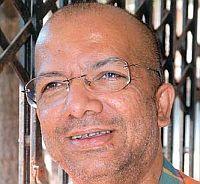 Rebel Trinamool Congress Member of Parliament Kabir Suman, whose sympathetic stand towards Maoists and outbursts against alleged in-house corruption embarassed the party, on Monday night quit the organisation and from the Lok Sabha.
Suman, the singer-turned-politician, sent an SMS to Trinamool chief Mamata Banerjee annoucing his resignation from the party as well as the decision to quit from the Lok Sabha, party chief whip in Lok Sabha Sudip Bandopadhayay told PTI.
"I am resigning from All India Trinamool Congress and Lok Sabha. Wish you all success and good health," the MP from Jadavpore constitutency said in the SMS sent also to Bandopadhayay and another TC leader Mukul Roy.
Suman's resignation capped months of uneasy ties between him and the party, especially Mamata who was understood to be unhappy over the manner in which the Communist Party of India-Marxist, arch political rival of Trinamool Congress, was drawing mileage from the singer's remarks against his own party.
The action by Suman came a week after Mamata Banerjee had asked the disciplinary committee to prepare a report on his public outbursts against alleged corruption in the party and sympathy towards Maoists, in contravention of the party's stand.
Suman's latest music album on Maoist-backed People's Committee Against Police Atrocities convener Chhatradhar Mahato and Lagarh movement by Naxals had come as a major embarrassment for TC as it runs counter to Banerjee's stand that the party does not subscribe to Maoists politics of liquidating people and wanted Maoists to abjure violence.
"It pains me to hear complaints that some Trinamool persons at the lower level are involved in corruption. They are accepting bribes. It's shocking that one has to pay Trinamool-led panchayats and municipalities to get building plans sanctioned," Suman had said in an interview to a TV channel.
Sudip Bandopadhaya conceded tonight that Suman's utterances had often put Trinamool Congress 'in a difficult position.' TC leader Partha Chatterjee had cautioned Suman that as an MP he should abide by parliamentary rules and party discipline.
However, the party cannot officially react to Suman's announcement unless they receive an official letter from him, Bandhopadhyay added.
"I have resigned. I will formally send regisnation letter to the party leadership and will inform the Lok Sabha speaker that I do not want to remain a member of the House," Kabir Suman said to a local television channel on Monday night.
Asked whether he would reconsider his decision if the party leadership asked him to, he said, "No."
His decision to resign from party comes after being allegedly insulted by a section of local partymen at Sonarpur in Jadavpur Lok Sabha constituency.
He said, "I have sent SMS expressing desire to resign to Mamata Banerjee, Leader of the Opposition Partha Chatterjee, party chief whip in Lok Sabha Sudip Bandhopadhyay and Minister of State for Shipping Mukul Roy."
Describing his state of mind after resigning, he said, "I feel relieved now. I do not want to remain a stooge of any one."
"I am a person from the mass movement. I did not enter TC after applying. TC leadership had pressed me to contest Lok Sabha polls from Jadavpur constituency, that is why I stood for election," he said.
"I did not join party with any ambition. They pleaded me to join the party," he said. While commenting on his sympathetic stance towards tribal leaders and mass movement among the tribal people, he said, "I say Lalgarh jindabad, Chatradhar Jindabad, Lalmohan Tudu jindabad."
Kabir Suman said he would compose more songs on Maoist-backed People's Committee against Police Atrocities convener Chhatradhar Mahato, who is now lodged in jail, and tribal leader Lalmohan Tudu, who was allegedly shot dead by joint forces near Lalgarh.
They spearheaded the tribal movement in Lalgarh areas of West Midnapore district.
Meanwhile, he said he would continue to support Mamata Banerjee in her fight against the Marxists in West Bengal. "My declared aim is to drive out CPI-M and see Mamata Banerjee becoming chief minister of the state. She will continue to get my support even after my resignation from the party," he said.
Asked whether TC has become a party of corrupt elements, he said, "I will not comment on the party."
Hinting that he was not allowed by the party to speak in Lok Sabha, he said, "There was no opportunity to ventilate one's views in Parliament."
Image: Kabir Suman