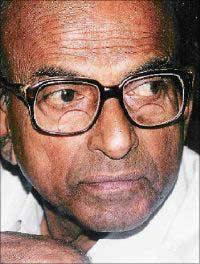 Kanu Sanyal, one of the founders of the Naxal movement in India, committed suicide on Tuesday. The veteran leader hanged himself in his residence at Seftullajote village, 25 km from Siliguri, on Tuesday.
Sanyal had reportedly been suffering from a heart problem since the last few years, and could not bear the pain any more.
Close family sources told rediff.com, "He had grown disillusioned with the Naxal movement, especially after Maoists started killing poor farmers under the guise of the movement."
The body has been sent for post-mortem, Inspector General of Police (North Bengal) K L Tamta said.
Born in 1932, Sanyal was one of the founding leaders of the Communist Party of India (Marxist-Leninist) formed in 1969.  The Naxalite movement, which started from Naxalbari, a small village in North Bengal on May 25, 1967, was led by Charu Majumdar and Sanyal.
Prakash Karat, general secretary of CPI-M, told rediff.com, "I had never met Kanu Sanyal. As far as the CPI-M is concerned, the Naxalbari movement was a Left-adventurist movement. But Kanu Sanyal had the merit to look back, to make some correction in the field of area of their work amongst farmers. In that sense, I will say Kanu Sanyal was sincere in his cause."