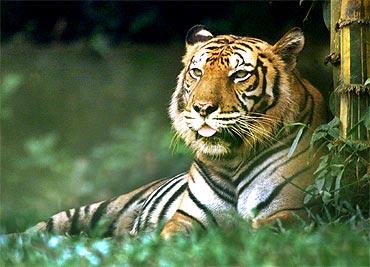 In just 10 weeks since January, at least 13 tigers died, five each in January and March in various reserves across the country.
Last year, 60 deaths were recorded. Now, merely 3,500 big cats are left in the wild of which 1,411 are in India.
Little wonder that the whole world is crying itself hoarse over the sharp drop in the population of this endangered species from the Prime Minister Manmohan Singh deciding to step in to save the big cats and Environment Minister Jairam Ramesh making a wakeup call by blaming mafia supported by politicians for its extinction.
A UN's wildlife body, Convention on International Trade in Endangered Species (CITES) too in its ongoing meeting in Doha has noted that despite several years of efforts the world has failed miserably to protect tigers.
"Construction and mining mafia do not want the tigers to survive in the forest. They want the land for construction of malls and mining," Ramesh said recently of the threat faced by the big cat in the country's 37 reserves.
He expressed hope that the prime minister's initiatives to talk to the states over the action needed to save the endangered species might help besides encouraging them to expedite notification process of buffer areas in protected areas and reserves to minimise impact on wildlife.
However, even as the authorities deliberate over the reasons, tiger deaths continue unabated due to various reasons such as poaching, infighting and conflict with villagers. On March 15, a tiger died in Tarai West, Ramnagar in Uttarakhand.
During the same month, a total of four tigers died in Valmiki Tiger Reserve in Bihar, Ranthambore National Park and Wayanad in Kerala.
In February, a six-year-old male tiger was found dead after being caught in a snare put up by suspected poachers in Corbett Tiger Reserve in Uttarakhand. Loss of habitat for farming and human habitation apart, ever growing huge market for tiger parts and bone in the international front has been taking a heavy toll on this threatened species.
"If we use tiger numbers as a performance indicator, then we must admit that we have failed miserably and that we are continuing to fail," says Willem Wijnstekers, secretary general, CITES at the meeting where the illegal trade in Asian big cat products was a key discussion issue.