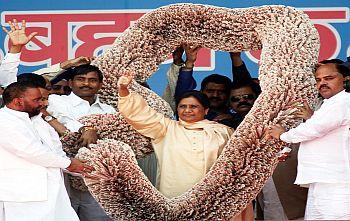 Bahujan Samaj Party president Mayawati had the most pleasant surprise in store for her when her party workers from Karnataka garlanded her with a special garland believed to be made of currency notes worth Rs. 5 crore.
In fact, none noticed the Rs. 1000 rupees currency notes with which the huge garland was created until these became visible in some shots by some local photographers. "We notices the notes when we zoomed in for our shots", said the photographer, covering the event.
Earlier, while Mayawati was being garlanded, mediapersons could see from a distance that it was not a run-of-the mill garland, beholders initially thought the garland was made of exotic flowers. However, the mystery was unraveled when TV channels covering the event beamed pictures of the garland.
Those present on the dais, however feigned ignorance about the unique garland in which some 50,000 currency notes of 1000 rupee denomination were believed to have been used.
The garland was specially crafted and brought by Mayawati's party functionaries all the way from Bengaluru for Monday's mega rally organized by her to mark the ruling party's silver jubilee celebrations which coincided with the 76th birth anniversary of party founder and her political mentor, Kanshi Ram.
Image: Mayawati with the garland at the function in Lucknow. Photograph: Pawan Kumar