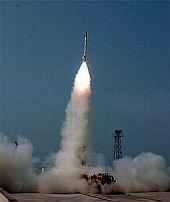 India's new Advanced Air Defence (AAD) interceptor missile, capable of destroying hostile missiles, on Monday encountered coordination problem and failed to take off during a planned launch from the Integrated Test Range at Wheeler Island off Orissa coast.
"Coordinated exercise between target missile Prithvi from Chandipur and the indigenously built interceptor from Wheeler Island could not take place properly during the planned trial," defence sources said.

Though Prithvi -- the target missile -- was test-fired at 10.02 hrs from a mobile launcher from ITR's launch complex-3 at Chandipur-on-sea, 15 km from Balasore, the interceptor missile failed to blast off, they said.
Though the exact reason behind interceptor missile's failure to take off was yet to be ascertained, preliminary analysis suggested that the target missile might have deviated from its stipulated trajectory, leading to lack of proper coordination, the sources said.
The trial, aimed at developing a multi-layer Ballistic Missile Defence (BMD) system, was scheduled to be held on Sunday from the two different ITR sites, but had to be put off due to some technical snag in a sub-system at Wheeler Island, they said.
Wheeler's Island is located about 70 km across the sea from Chandipur and the AAD missile was to intercept the target at an altitude of 15 to 20 km over the sea.

The Defence Research and Development Organisation (DRDO) had already test-fired the interceptor missile thrice on November 27, 2006, December 6, 2007 and March 6, 2009 from the Wheeler Island.

The seven-metre AAD interceptor is a single stage solid rocket-propelled guided missile equipped with an inertial navigation system, a hi-tech computer and an electro-mechanical activator totally under command by the data uplinked from the ground based radar, they said.

The missile has its own mobile launcher, secure data link for interception, independent tracking and homing capabilities and its own radar.