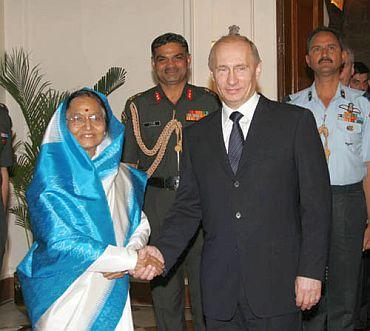 Russian Prime Minister Vladimir Putin arrived in New Delhi in the wee hours of Friday on a two-day visit during which the two sides are likely to conclude the long- delayed agreement on aircraft carrier Admiral Gorshkov and sign defence deals worth $4 billion.
Coming three months after Prime Minister Manmohan Singh's visit to Russia in December 2009, Putin's India trip has a wider agenda that includes taking bilateral technological and energy cooperation to a new level.


Diplomatic sources said the two countries are keen on developing bilateral interaction in hi-technology as Russia has launched a major plan for its innovative modernisation.

It's all about boosting strategic partnership
External Affairs Ministry spokesman Vishnu Prakash said that the visit of Russian Prime Minister would further consolidate the strategic partnership between the two countries.


" We are aiming to take forward on bilateral cooperation in strategic sectors like hydrocarbons, civil nuclear energy, space and defence. The two sides would also be holding discussions on energizing trade and investment ties. Our expectation is that the visit will set the tone for the bilateral exchanges for the rest of the year," he added.
Prakash also said that both the countries shared concerns about Afghanistan and would like to see normalcy and reconstruction taking place there.


"Russia and India have common concern with regard to Afghanistan, AfPak and both agree on the need for strong international cooperation against terrorism and financing of terrorism, the need for sustained international effort to effectively combat production and trafficking of narcotics in the region. Both sides would also like to see rapid economic development in Afghanistan, rapid reconstruction in Afghanistan, return to normalcy in Afghanistan and we both agreed that there has to be concerted efforts on the part of international community," he added.
Hectic Day for Putin


Around noon, Putin will call on President Pratibha Devisingh Patil for about half-an-hour.


At 12:45 pm., he will visit the AFC Sistema at the Russian Trade Centre.


At 4 pm, he will meet the UPA Chairperson Sonia Gandhi at her 10, Janpath residence.

At 5 pm, he will take part in the Indo-Russian delegation-level talks at Hyderabad House.


At 7.20 pm, a signing of agreements will take place followed by a joint press statement.


At 9.15 pm, Putin will board his aircraft for Moscow.
Untangling Admiral Gorshkov
Besides the deals worth $4 billion, including the final delivery agreement for Admiral Gorshkov, the two sides will also sign the final agreement for joint manufacture of fifth generation fighters, local media reported.


Acording to the delivery agreement for admiral Gorshkov, an irritant in the bilateral ties, New Delhi would shell out an additional $2.35 billion for the upgradation of the carrier and training of Indian naval crews, it said.


Besides holding bilateral talks with Dr Singh, Putin will also meet President Pratibha Patil during his visit.


The Gorshkov carrier, which has been rechristened INS Vikramaditya is now scheduled to be delivered by 2013. India would pay another $1.2-billion for the new naval MiG-29K/KUB.

The new MiGs will be in addition to 16 jets already to be delivered under a contract signed in 2004 as part of the Gorshkov deal. The Indian Navy has already inducted the first of these maritime fighters.

The Vikramaditya is currently undergoing repairs and refit at the Sevmash shipyard in Russia. Under the new agreement on Gorshkov refit, additional money would be made available to Sevmash shipyard to step up its upgradation.

Other deals and strategies
The two countries are also close to signing commercial contracts for setting up multi-billion joint venture for the joint development and production of fifth generation fighter aircraft (FGFA) and multi-role transport aircraft (MTA).


India will also acquire 40 more Sukhoi Su-30MKI multi-role fighters. Media reports said Putin's India visit is also aimed at boosting cooperation in nanotechnology and bio-technology for development of new pharma drugs, space and nuclear as well as conventional energy.
Russia wants to boost trade with India to $20 billion by 2015 from the current $8 billion.


The two countries plan to set up a joint venture to produce GLONASS-enabled navigation equipment and sign a contract for construction of two reactors at Kudankulam nuclear power plant where Russia plans to commission the first reactor this year.


The last meeting between Putin and Dr Singh in Moscow in December 2009 failed to generate big deals to emulate the landmark oil-for-arms deal signed by the two countries earlier in the decade.
Image: Putin with President Pratibha Patil at the Rashtrapati Bhawan
Photograph: PIB