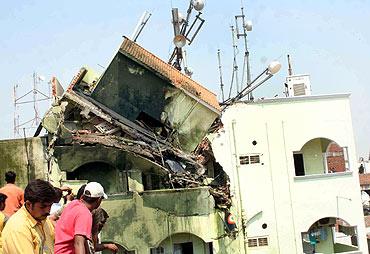 A three-member panel has been set up by the authorities to probe whether a three-storeyed residential building, into which a Navy plane crashed during an airshow in Hyderabad, had an "illegal" extra floor.
The Kiran MK-II plane, which was part of the 'Sagar Pawan' aerobatic team participating in a display at the 'India Aviation show 2010', crashed on Wednesday into the building at New Bowenpally, about 4 km from the Old Begumpet Airport, killing its two pilots and another man on the ground.
The top floor of the building into which the plane crashed not only had a penthouse but also a cell phone tower atop, officials said.
On a query whether the building owner had obtained permission to construct extra floor and installation of tower, Secunderabad Cantonment Board Chief Executive Officer C Ravindra said, "We have set up a committee and investigating if the building was constructed in an unauthorised manner."
The SCB is the civic agency for Secunderabad and its policy is to allow ground plus two floors only. Every building coming up in the area should also obtain an NOC from the Airport Authority of India before construction begins.
The three-member committee would probe violations, if any, that occurred in the construction, Ravindra said.
Building owner L Ramesh Kumar, a retired engineer who has sought compensation in view of damage to his building, said there were several buildings in the locality with ground plus two floors and also a penthouse.
Image: The site where the neval aircraft crashed into a residential building
© Copyright 2022 PTI. All rights reserved. Republication or redistribution of PTI content, including by framing or similar means, is expressly prohibited without the prior written consent.