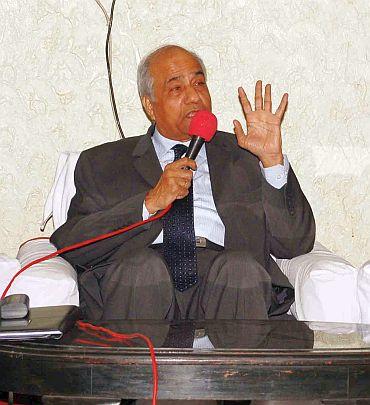 Even as some political leaders alleged that influential anti-Telangana officials in the government would feed wrong and misleading information to the Srikrishna Committee, the consultative panel's chairman, Justice B N Srikrishna said that all the technical information provided to the committee would be put in the public domain.
Before leaving Hyderabad after his maiden visit, Srikrishna told media persons that soon a website will be opened on which all technical information and data given to the committee will be available for the people to see.
However, the letters sent by the presidents of different political parties will not be published on the website.

VK Duggal, member secretary, said that the committee was receiving piles of representations every day and it was not possible to put all of them in public domain.

"It will be for the party presidents to decide whether they want to make their letters to the committee public and I think they may like to do it," he said.
Duggal said that the committee has sought the views of the state presidents of all the political parties by sending the terms of reference as well as the copy of the public notice.
Even as all five committee members were leaving the Lakeview Guest House for the airport, about 15 pro-Telangana lawyers tried to hold a demonstration and were arrested by the police.

Fearing that any protestor may try to resort to self-immolation, a large number of police personnel were stationed at the entrance of the Guest House, ready with fire extinguishers and water cans.
Justice Srikrishna appealed to the people of the state to extend full cooperation to the committee and maintain peace, and "help us in finding a solution to this impasse".
Referring to Thursday night's dinner meeting with the leaders of all the recognised political parties at Raj Bhavan, Justice Srikrishna said that it was a friendly meeting and no political talk took place.
"The whole idea was to generate an atmosphere of goodwill camaraderie and friendship so that when we actually meet for discussing the hard political issues we know each other, we have trust in each other and we have good will for each other."
He said that the committee will start the process of interacting with the people, political leaders, individuals and all the stakeholders in the first week of April.
Earlier in the day, the committee members went around different venues where the committee can have interactions with different groups of people. However, Justice Srikrishna made it clear that the committee will not have any permanent office in Hyderabad.
"Having an office in Hyderabad will be counter productive because people will start pressurising the committee. It is better that we are outside," he said.
Image: Justice Srikrishna attends the press conference
Photograph: SnapsIndia