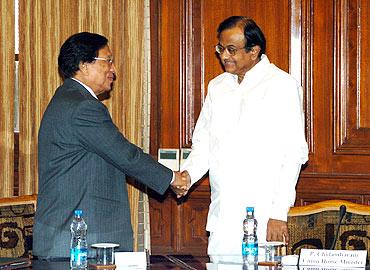 Rebel Naga leaders, who met the Prime Minister Dr Manmohan Singh, to discuss the issue of sovereignty of Nagaland were disappointed when the Centre gave its nod to autonomy, but said no to the demand for a 'Greater Nagaland.'
Sources within the government said the Centre has formalised a 'peace formula' to break the deadlock with the Naga rebels, who held a first round of talks with the government Toesday.
Naga leaders also called on Union Home Minister P Chidambaram to discuss the issue of autonomy.
According to sources, the government has a proposal to counter the Naga demands, which would include a Naga body without territorial jurisdiction, but with a constitutional sanction.
There are reports that the general secretary of National Socialist Council of Nagaland-Isak Muivah, Thuingaleng Muivah, was unhappy with the interlocutor R S Pandey, who led the discussions at the peace dialogue.
The banned NSCN-IM faction chairman Isak Chisi Swu along with its general secretary Thuingaleng Muivah arrived in New Delhi for talks with the central government in a bid to take the vexed Naga peace process forward.
Isak and Muivah, who are now based in Amsterdam, have come to India after nearly three years.
Muivah has set the tone for the talks by saying the rebel outfit will not withdraw its demand for a Greater Nagaland.
Union Home Secretary G K Pillai told mediapersons in Dimapur on Saturday, "Muivah accepted the invitation from the government of India communicated through the new interlocutor R S Pandey to resume the peace dialogue."
Ahead of meetings with political leadership, the Naga leaders will hold talks with Pandey on March 2 and 3, they said.
The two leaders were also expected to visit Nagaland besides addressing the issue of clashes between the cadres of NSCN-IM and its rival NSCN (Khaplang), which led to unrest in the recent past.
Government sources said they would try and iron out differences with the NSCN-IM, which has proposed a federal relationship with the Indian Union.
Image: NSCN-IM General Secretary Thuingaleng Muivah meeting Union Home Minister P Chidambaram in New Delhi on Tuesday | Photograph courtsey: PIB