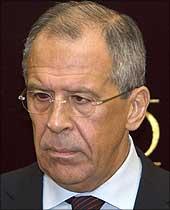 Russia on Tuesday fumed over the arrest of 10 suspected spies in the United States by the Federal Bureau of Investigation, an incident reminiscent of the Cold War hostilities, warning it would be a blow to the Obama-Medvedev 'burger' diplomacy and the 'reset' in the bilateral ties.
Russian Foreign Minister Sergei Lavrov said Moscow wanted an explanation from the United States over the arrest of the Russian 'spies.'
"They have not explained to us what is going on. I hope they will," Lavrov told mediapersons following talks with his Israeli counterpart Avigdor Lieberman in Jerusalem, adding "the only thing I can say is that the timing was chosen with a particular care."
The US Department of Justice said yesterday that 11 people had been charged as "unlawful agents of the Russian Federation within the United States."
Ten of them were arrested on Sunday and the other one remains at large, the department said in a statement. Later the 11th suspect was detained in Cyprus.
The Russian foreign ministry in a strongly worded statement expressed its regret over the scandal.
"We do not understand why the US Department of Justice issued a public statement inspired by Cold War-era 'spy games'. We would like to mention that such incidents have taken place more than once before, at the times when our relations were improving," the ministry said in a statement.
A number of top Russian officials have described the move as an attempt to undermine trust in relations between Russia and the United States.
Deputy Head of the Russian Parliamentary Security Committee Nikolai Kolesnikov told RIA Novosti that the scandal was orchestrated by people whose attitude to Russia was still based on Cold War-era stereotypes.
"Many people involved in US politics view the recent warm spell in relations between the two countries as inappropriate," he said. The lawmaker expressed hope that Obama would "have enough wisdom to properly evaluate situation."
Kolesnikov said it was first and foremost, a blow to president Obama himself, and his burger diplomacy, who had dined at burger caf last week with Medvedev.
First Deputy Speaker of the Russian Federation Council (upper house of parliament) Alexander Torshin urged the media not to over-hype the situation.
"This is not a return to the Cold War, and I am sure this incident will not turn into a large-scale spy scandal," Torshin said.
Image: Russian Foreign Minister Sergei Lavrov
Photograph: Reuters