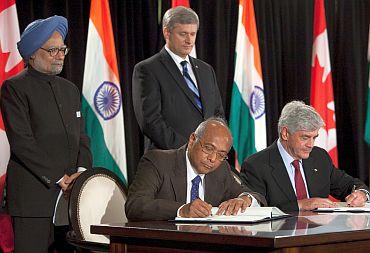 India and Canada have signed a civil nuclear cooperation agreement and strongly condemned terrorism in all its forms and manifestations.
Prime Minister Manmohan Singh and his counterpart Stephen Harper hailed the signature of the nuclear agreement after their one-on-one and delegation level talks that will provide for cooperation in civil nuclear energy, including import of uranium and equipment from Canada.
Department of Atomic Energy Secretary Srikumar Banerjee and Canadian Foreign Minister Lawrence Cannon signed the civil nuclear agreement in the presence of the two prime ministers.
The deal also envisages cooperation in fields of nuclear waste management and radiation safety.
The agreement assumes significance in the context of Canada's strong attitude in the past when it slapped sanctions against India after the Pokhran I and II tests in 1974 and 1998.
A joint statement issued at the end of the meeting said the two prime ministers committed themselves to the ratification of the agreement and completion of all remaining steps necessary to ensure its early implementation.
They underscored the potential for mutually beneficial civil nuclear cooperation and trade.
At a joint interaction with the media in the company of Harper, Dr Singh said that civil nuclear cooperation agreement, which the two countries have signed, "breaks new grounds" in the history of bilateral cooperation in the sector.
"It reflects the change in International realities and will open new doors for mutually beneficial cooperation in nuclear technology," he said.
"We have identified renewable energy, clean technologies, and energy efficiency as other priority areas of cooperation. The newly-constituted Canada-India Energy Forum has already begun its work and has our full support. We have also decided to focus on mining and agriculture as the other priority areas of cooperation," he said.
Image Courtesy: Canadian Prime Minister's Office