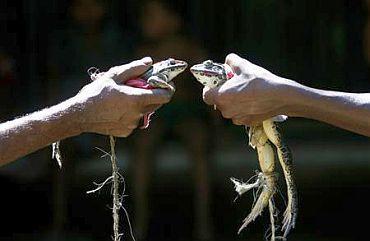 Following a delayed monsoon, people in the holy city of Varanasi organised the mythical marriage of frogs to please the rain gods on Thursday.
They prayed that the weather gods would open up the skies and bless them with ample rainfall. The unbearable heat compelled people to organise the wedding of frogs to invoke divine powers of the rain gods.

At one such venues, the local priest solemnised the marriage to the chanting of hymns from the Hindu scriptures during which he even applied vermilion on the forehead of the female frog.
The wedding was performed to the resonance of Vedic hymns recited by the priests as per traditional Hindu marriage rituals.
"Today, we performed the wedding of frogs as per Hindu rituals. The predictions of the weather department failed as evident from the prevalent extreme hot weather. This is an age-old tradition that if frogs are wedded, then Indra Dev will be pleased and monsoon will come," said Munna Lal Yadav, organiser of a frog marriage.
Some persons used artificial frogs and at some places real frogs were wedded. Many people participated in this mythical wedding.
The wedding was performed to please Lord Indra, the divine figure regarded as Lord of Rain by Hindus so that he showers rain.
"As per our Hindu tradition, the wedding of frogs signifies that during rainy season frogs come out and welcome Lord Indra. The wedding is performed so that frogs croak and welcome Indra Dev as well as the monsoon showers," said Anand Chaubey, a local priest.
The months of May and June are the hottest in the country with the temperatures often hovering in the range of 40 to 45 degrees Celsius at many places. People look forward to the rains to cool down.