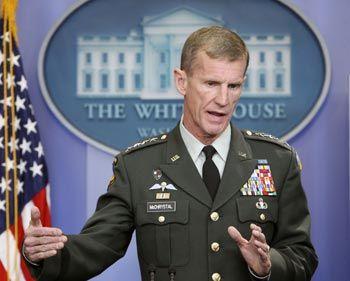 Terming his top military commander's remarks to a magazine as showing 'poor judgement', US President Barack Obama says he wants to hear directly from Gen Stanley McChrystal before taking a final call on deciding whether or not to fire him.
Obama in his first comments on the disparaging magazine story that has enraged both the White House and Pentagon said McChrystal and his aides showed "poor judgement".
Obama would be meeting the General during his monthly situation room meeting on Afghanistan and Pakistan at White House on Wednesday.
McChrystal has been summoned specially for the meeting and may be given a final hearing, before apparently facing the axe. The meeting could be dominated by the General's highly critical comments against top officials of his administration in an interview.
"I think it's clear that the article in which he and his team appeared showed poor judgement. But I also want to make sure that I talk to him directly before I make any final decisions," Obama told media persons when asked if McChrystal is being fired.
"Even as General McChrystal is on his way here, I want everybody to keep in mind what our central focus is, and that is success in making sure that Al Qaeda and its affiliates cannot attack the United States and its allies," he said.
"We've got young men and women there who are making enormous sacrifices, families back home who are making enormous sacrifices. So whatever decision that I make with respect to General McChrystal or any other aspect of Afghan policy is determined entirely on how I can make sure that we have a strategy that justifies the enormous courage and sacrifice that those men and women are making over there, and that ultimately makes this country safer. I know Secretary Gates feels the exact same way," Obama said.
The meeting is scheduled to last for about 90 minutes.
In the story, one top McChrystal adviser refers to Vice President Biden as 'Bite Me'.

A McChrystal adviser says that in his first meeting with the general, President Obama 'clearly didn't know anything about him, who he was. Here's the guy who's going to run his f---ing war, but he didn't seem very engaged. The Boss was pretty disappointed.'
Another aide calls National Security Adviser Gen James Jones (ret) a 'clown stuck in 1985.'
McChrystal says he felt 'betrayed' by the leak of a cable from US Ambassador to Afghanistan Gen Karl Eikenberry (ret) describing Afghan President Hamid Karzai as 'not an adequate strategic partner'.
He is quoted as saying: 'I like Karl, I've known him for years, but they'd never said anything like that to us before. Here's one that covers his flank for the history books. Now if we fail, they can say, 'I told you so'.'