United States President President Barack Obama on Tuesday removed Gen Stanley McChrystal as his top commander in Afghanistan over his highly critical remarks about senior administration officials, saying that he did not live up to the standards for a command-level officer.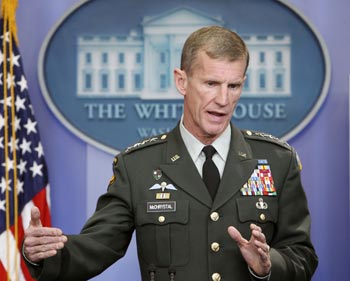 Making an announcement at the Rose Garden of the White House, Obama said McChrystal (in the picture) would be replaced by Gen David Petraeus who had successfully led the multi-national forces headed by the US in Iraq war. Petraeus currently is Commander of the US Central Command.
He said he is accepting the resignation of McChrystal with regret, adding that "this is in the best interest of the US national security".
"Today, I accepted General Stanley McChrystal's resignation as commander of the International Security Assistance Force in Afghanistan. I did so with considerable regret but also with certainty that it is the right thing for our mission in Afghanistan, for our military, and for our country," Obama said.
Petraeus not only enjoys the respect in the US Congress across the aisle but has well developed relationship with leaders in Afghanistan and Pakistan; which is considered to be crucial for winning the war against terrorism.
Obama emphasised that this is a change in person and not a change in policy, as General Petraeus has been involved in the Afghan policy since the beginning of his administration.
"I don't make this decision based on any difference in policy with General McChrystal as we are in full agreement about our strategy. Nor do I make this decision out of any sense of personal insult," he said.
"McChrystal has always shown great courtesy and carried out my orders faithfully. I've got great admiration for him and for his long record of service in uniform," Obama added.
Obama said the conduct represented in the recently published article carrying the remarks of McChrystal does not meet the standard that should be set by a commanding general.
"It undermines the civilian control of the military that is at the core of our democratic system. And it erodes the trust that's necessary for our team to work together to achieve our objectives in Afghanistan," Obama said.