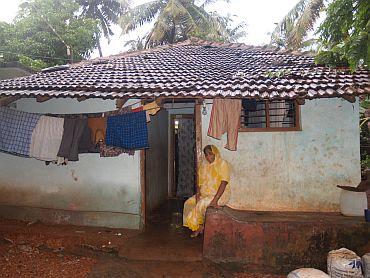 Rediff.com's Vicky Nanjappa travels to Bhatkal on Karnataka's west coast to investigate how a quaint town turned into a hotspot. There he meets a mother who awaits the return of her son, an Arabic tutor who happened to be at the wrong place at the wrong time.

Noorunisa can hardly walk or talk. It's been several months since she last saw her son, Moulana Shabbir Hussain Gangawali.
Thirty-three-year-old Shabbir was the sole breadwinner for his family. With the Rs 3,000 that he used to earn every month by giving Arabic tuitions, he used to support his ailing mother, four brothers and four sisters.

His dilapidated house looks as though it may collapse any time. Today, only his mother lives in that house. With whatever voice she can muster, she wants to know when her son would return.
Shabbir was picked up in connection with the Pune blast of February 2010.

The case against Shabbir is a strange one. He had gone to Pune to visit his ailing sister, promising his mother that he would return soon. Then the blasts happened in Pune. The police questioned Shabbir, who was in the city then.

The first thing they asked him was about his native place. When he said Bhatkal, they searched him and found a Rs 500 note on him. Claiming that it was a fake, they put him behind bars. An inquiry later found him to be innocent.
However, minutes after his release, he was picked up on the grounds that he had played a crucial role in the Pune blasts and had on an earlier occasion supplied jihadi content to several youths, thus inciting them to carry out this attack.
How could the police release and then re-arrest him? ask Bhatkal residents. There is a conspiracy against him; they are just using the name of his native place to place him under arrest, they allege.
Residents say Shabbir's case is similar to that of Abdul Sammad, who was recently granted bail by a court in the Pune blasts case.

Interestingly, the Pune blasts investigation too has not gone anywhere. The ATS and the Pune police have not yet been able to confirm the role of the Indian Mujahideen in the incident. There is now talk about the blasts being the handiwork of some Hindu groups, which has given several Bhatkal residents a ray of hope.
Meanwhile, Noorunisa continues to pray for the return of her son.

Image: Noorunisa outside her home in Bhatkal