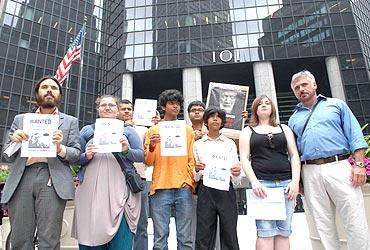 About 20 demonstrators held a peaceful though noisy protest in front of the Indian embassy in Washington, DC, in support of the Bhopal disaster victims and against the injustice the Indian government allegedly was complicit in.
The protest, organized by the International Campaign for Justice in Bhopal and the Association for India's Development, demanded that the Indian government take action to undo the injustice and called on New Delhi to urge Washington to extradite the erstwhile chief executive of Union Carbide, Warren Anderson and Dow Chemical (which acquired Union Carbide several years ago) representatives for criminal and civil liability for the ongoing poisoning and death in Bhopal.
Somu Kumar, an AID activist, told rediff.com that "since we've been involved in the Bhopal campaign for the last several years, and have held protests in front of the Indian embassy many times before." Kumar said that "we handed over a petition addressed to the Prime Minister, to Indian embassy officials--I believe two lower level officials who said they were taking it on behalf of Sanjay Sinha, the minister for community affairs at the embassy. I don't know if he was not there or he was not meeting us--we don't know," Kumar said. "They said they are taking it on his behalf, but we did give a copy of the petition, which is also part of the global petition that is being faxed to the Prime Minister."
Kumar said that "we demanded that we would like to get a reply of what the Indian government thinks, because most of the time we've given a petition, they said, 'OK, we'll send it to the prime minister but we never hear back. So, this time we demanded that we would like to know what happened, and so we told them that we'll follow up in a week's time, whether they really sent it over to the Ministrty of External Affairs and what was the response and so on."
The petition, besides calling on India to seek the extradition of Anderson and Dow representatives for criminal and civil liability for ongoing poisoning and death in Bhopal, also called on the PM to address this injustice by setting up a special prosecution cell to expedite the case, to set up an empowered commission on Bhopal to rehabilitate survivors and their children, and for India to blacklist Dow Chemicals.
Lakshmi Gorrepati, who was one of the protestors, said, "It is mind-boggling to see the amount of corruption revealed within a week of this too little, too late verdict for the Indian accused." She said, "The events only prove wide collusion among elected politicians, bureaucrats and corporates to the extent of putting an accused criminal in a government jet and letting him escape justice. It makes a sham of Indian democracy and the judicial system, that criminals involved in deaths of 25,000 people walk out on bail on the day of the verdict."
Professor Mohan Bhagat, director of AID, said, "It is ironic that in the Gulf Coast oil spill disaster, BP is being slapped with several billion dollars of expenses and thousands of lawsuits within the first month, whereas in Bhopal, 26 years after the worst-ever industrial disaster in the world with 25,000 lives lost, those responsible are being let off with barely a sentence and with paltry compensation for the victims.It's time for all concerned--in India and the United States--to stand up and demand justice for the Bhopalis."
Image: The International Campaign for Justice in Bhopal and Kids for a Better Future protest outside the law offices of Kelley Drye & Warren in New York, who represent Union Carbide Corporation.
Photograph: Paresh Gandhi