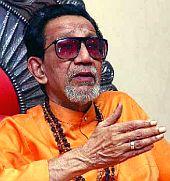 On his 43rd birthday on Monday, Maharashtra Navnirman Sena chief Raj Thackeray got a gift he could have done without.

Raj was dubbed 'Dhanajirao' -- a euphemism for one who is wealthy or hankers after money -- by his uncle and Shiv Sena chief Bal Thackeray.

The title is the latest in a series of such nicknames given by the 83-year-old Sena chief in his over four decade-old political career.

The Sena chief earlier called Nationalist Congress Party chief Sharad Pawar 'maidyache pote' (sack of flour), a reference to the Maratha strongman's girth.

Thackeray later famously termed Chhagan Bhujbal, who quit his party to join the Congress in the 90s, as 'Lakhoba' (a character in a popular Marathi play), and Narayan Rane, who quit Sena in 2005 to join Congress, as 'Naroba'.

'Now that Dhanajirao (Raj) has confessed that MNS MLAs voted for Congress in last week's legislative council elections in return for revoking suspension of four MNS MLAs, everybody knows how transparent the poll process was,' the Sena supremo said in party mouthpiece Saamna.

After the council poll, Thackeray had alleged that the MNS had been bought over by Congress.