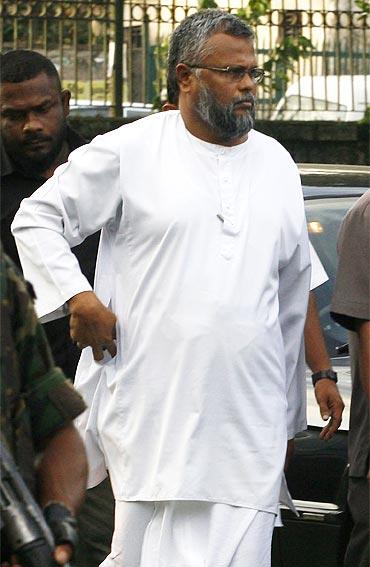 Sri Lankan Minister Douglas Devananda, whose visit as part of presidential delegation has come under controversy following reports that he is a proclaimed offender in India, on Thursday said all political leaders were pardoned as per the Indo-Sri Lanka pact but maintained that he was prepared to face legal action, if any.
Devananda, who is accompanying Sri Lankan President Mahinda Rajapaksa on his first state visit here, was declared a proclaimed offender by a Chennai court on charges of murder, rioting and unlawful assembly in Chennai in 1986, according to reports.
"I don't know about that but, according to the Indo-Sri Lanka agreement, they have given pardon to all leaders, all political leaders....If there is anything legal, I am prepared to face that," Douglas told mediapersons.
He was asked if there was some "mischief or something else" against him as a PIL was filed in Chennai high court seeking his arrest.
Meanwhile, senior government officials said the Sri Lankan minister was not on a "watch list" of those who are preventing from entering the country. Invitation was extended to Rajapaksa to come here and Devananda is a minister in his government whom he has chosen to be part of the delegation, the officials said, adding the minister has come earlier also in 2005 with a delegation.
Devananda also maintained that his visits to India were legal. Devananda, who is Minister for Traditional Industries and Small Enterprises of Sri Lanka, was given state protocol in India since he is a state guest.
Image: Sri Lankan Minister Douglas Devananda |  Photograph: Reuters