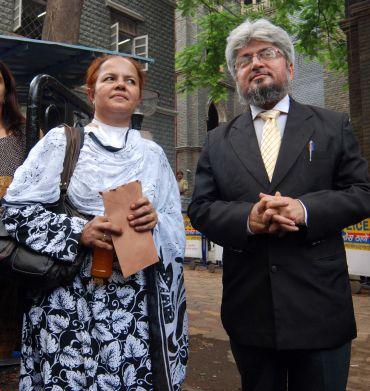 Two senior criminal lawyers were on Tuesday appointed by the Bombay high court to represent convicted Pakistani terrorist Ajmal Kasab in his appeal against the death sentence in the 26/11 attacks case.
Amin Solkar, a lawyer of 25 years' standing, would be assisted by Farhana Shah, also a leading criminal lawyer.
"I was called by Acting Chief Justice J N Patel, executive chairman of Maharashtra State Legal Aid Authority, in the afternoon and handed over a letter of appointment," Solkar told PTI.
"Kasab had asked for a lawyer to argue his case and declared his intention to file an appeal. We shall now draft an appeal and file it in the high court," Solkar said.
Kasab had written a letter in Urdu to the high court a fortnight back declaring his intention to file an appeal and seeking a lawyer from the legal aid panel to argue his case.
Kasab had forwarded the letter to the MSLAA through the jail authorities.
Kasab has the right to remain present before the high court bench which would hear his appeal, and in such an event the state would have to ensure that he is brought amidst tight security from Arthur Road jail where he is currently lodged.
The 26/11 trial court had on May 6 sentenced Kasab to death for the massacre of 166 people in the most audacious terror attacks in the country executed at the behest of the Lashkar e Tayiba. He was also held guilty of waging war against India.
The state government is also contemplating to file an appeal against the acquittal of two co-accused, Faheem Ansari and Sabauddin Ahmed, who were charged with providing maps of terror targets to the LeT, official sources said.
The trial court has forwarded the judgment to the high court for confirmation of the death penalty awarded to Kasab.
The high court would simultaneously hear Kasab's appeal, the state's appeal against the acquittal of the two co-accused and confirmation of death penalty awarded to the 22-year-old LeT foot soldier who had held the city to ransom during the 60-hour siege along with nine accomplices and perpetrated the carnage.
In the trial court, Kasab was provided with free legal aid after he pleaded that he could not afford a lawyer of his choice. Judge M L Tahaliyani appointed Abbas Kazmi and K P Pawar to defend him. After Kazmi was removed midway for not cooperating with the court, Pawar was appointed to represent him.
The Constitution gives the right to a person to engage a lawyer to defend himself in the court and, if he cannot afford one of his choice, he can have somebody appointed from the state's legal aid panel at the State's expense.
Image: Farhana Shah (left) and Amin Solkar outside the Bombay High Court on Tuesday | Photograph: SnapsIndia