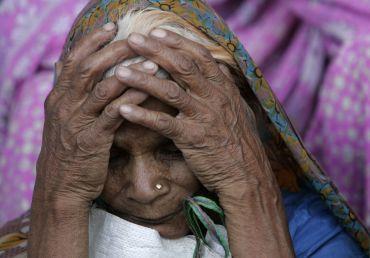 Emotions ran high among survivors and relatives of the victims of the world's worst industrial disaster in Bhopal as they demanded capital punishment after eight senior officials of the Union Carbide were convicted today only of death due to criminal negligence.
"It is black day for Bhopal gas victims," was the refrain of the survivors after the verdict of a local court, as they grimly recalled the night of death in Bhopal nearly 26 years ago, when a cloud of deadly gases exploded out of a faulty tank in a pesticide factory and silently spread into the homes of sleeping people.
A mood of despondency and disappointment hung over some of the worst affected areas following the verdict giving the maximum two-year punishment to the accused after a 23-year-old trial.
"Hang the guilty," screamed several furious survivors of the Bhopal gas disaster on the intervening night of December 2-3,1984 who have symbolically awarded "death penalty" to the accused and hanged their effigies at public places in Bhopal.
Thousands of people were killed and maimed when the deadly methyl isocyanate gas and other toxins leaked from the Union Carbide plant.
Hamida Bi, a survivor and a member of Bhopal Gas Peedith Mahila Udyog Sanghathan, said, "I want that the accused should be hanged for the endless woes caused to us." Hamida was then 28 years old with an 11-month-old baby.
"We are preparing the effigies of the accused of the world's worst industrial disaster and hanging them at different squares as it gives us some solace from our sufferings," said Shamshad Bi, another survivor who lost her only five-year-old-son and mother-in-law in the gas tragedy.
"We lived in JP Nagar, just opposite the Union Carbide factory (now defunct) when the toxic gas leaked," Shamshad, who was then 23 years old, recalled.
Hamida Bi said, "In all, we will be hanging nearly 64 effigies of the accused, including that of Warren Anderson, the then Chairman of Union Carbide Corporation, USA, who had been declared an absconder in the case."
"We prepare these effigies with our meagre resources and hanging them gives us some peace of mind," Hamida said.
"I lost my granddaughter to the toxic gas. Due to the gas leak affects I have lost around 35 relatives till date," she said amid sobs.
"We don't want any financial compensation; we want the accused to be sent to the gallows," said Shanti Devi (70), who lost her husband in the tragedy, said.
Image: A victim of Bhopal gas tragedy attends a demonstration in Bhopal | Photograph: Raj Patidar/Reuters