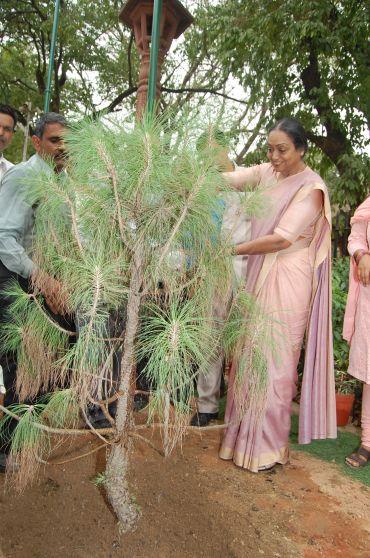 As she completes one year at the helm of affairs in the Lok Sabha, Speaker Meira Kumar said on Thursday that she would like to be guided by consensus on all issues, including changing the timing of Question Hour.
"I function in such a way that I do not implement any decision so far as there is no consensus on it. I would like to be guided by consensus," Kumar said, when asked about her opinion on changing the timing of Question Hour.
Kumar's one year in office has been marked by changes in the conduct of the proceedings of the Lower House.
A significant change has been in the ruling of not allowing any starred question to lapse in absence of the member raising it in the House.
The decision came in the wake of an unusual instance of 17 starred questions going unanswered in the Lok Sabha due to absence of members who had raised it.
In a landmark ruling, Kumar gave the speaker the authority to direct that the answer to the Question be taken up in the House in absence of the member raising it.
"The past one year has been challenging as well as very heartening. Challenging because there were too many responsibilities as speaker, particularly in conducting the proceedings of the House in a proper manner," she said.
Kumar said the first year in office has also been heartening because of the respect shown towards her by all the members of the House.
"It has also been my effort to ensure that a spirit of mutual respect prevails in the House," the speaker said. Kumar made history in the Lok Sabha when she was unanimously elected as speaker on June three last year, thus becoming the first woman to occupy one of the high Constitutional posts.
From being a foreign service officer to a five-term Member of Parliament and then a Cabinet minister, 65-year-old Kumar has come a long way.
Armed with a degree in law and a masters in English, she joined the IFS in 1973 and served in the embassies in Spain, the UK and Mauritius. She also served as a member of the India-Mauritius Joint Commission.
Meanwhile, Kumar appears set to leave a lasting imprint in the Parliament premises by sprucing it up and paying attention to minute detail by restoring the mural paintings in the building.
In the past one year, she has taken many steps to make the premises environment-friendly, including use of renewable energy for the building's power needs.
Kumar has also ordered installation of solar energy system in the Parliament House complex.
She also planted a sapling in the campus on Thursday.
The speaker has also taken a number of measures to make the complex disabled friendly.
Image: Lok Sabha Speaker Meira Kumar plants a sapling at the Parliament House Complex on Thursday | Photo courtesy: Lok Sabha