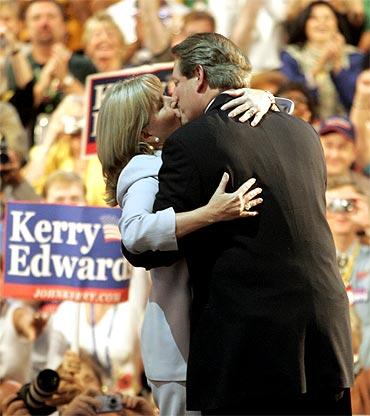 Former United States vice president Al Gore and his wife Tipper have decided to separate -- after 40 years of marriage.
The couple, both 61 years of age, broke the news to their friends via email on Tuesday.
'We are announcing today that after a great deal of thought and discussion, we have decided to separate. This is very much a mutual and mutually supportive decision that we have made together following a process of long and careful consideration. We ask for respect for our privacy and that of our family, and we do not intend to comment further,' they wrote in their email.
The lingering image of the Gores in public memory was from their public display of affection at the Democratic presidential convention in July 2000, when the couple shared a warm kiss in full public view. That was the election that returned George Bush to the White House after the Florida recount.
The couple's fairytale romance began in a Boston high school when Al Gore asked her out a day after the prom – which Tipper had attended with another date. He proposed to her on the banks of the Charles river, and they got married in 1970.
Vice president under Bill Clinton, the Gores' steady and happy marriage seemed in contrast to the then president's tumultuous one.
He may not have won the US presidency, but Al Gore went on to win the Nobel Peace Prize in 2007 for his environmental evangelism. Tipper, whose own career took a backseat to further her husband's, is a photographer and writer who, in 1985, set up the Parents Music Resource Centre that put warnings on music not suitable for children.
The couple live in Nashville, Tennessee, and have four children.
Image: Al Gore and his wife Tipper kiss after he spoke at the Democratic National Convention in Boston, Massachusetts, in this July 26, 2004, file photograph by Rick Wilking of Reuters