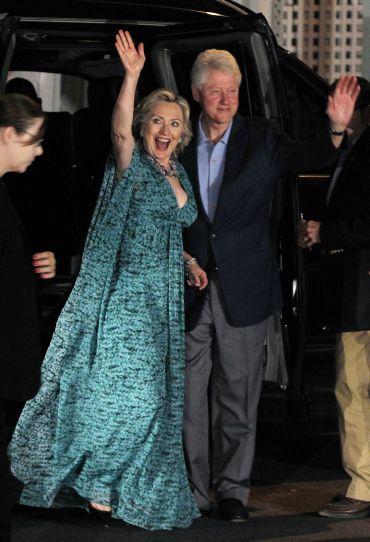 America was abuzz on Saturday with what is being billed as the 'wedding of the millennium' with former first daughter Chelsea Clinton set to tie the knot with investment banker Marc Mezvinsky, after an intensively secret build-up.
The star studded wedding will take place in Rhinebeck, a quaint rural retreat for the New York elite, amidst a news black out which has triggered a media frenzy with hundreds of scribes descending on the small town.
The bride, 30, met her would-be-husband as a teenager and her nuptials with Mezvinsky, 32, are set to take place at the grand Astor Courthouse, which has been declared a 'no-fly' zone, with hundreds of security personnel blocking all roads leading to the venue.
They were friends as teenagers in Washington, DC and attended Stanford University together. Chelsea completed her master's degree in public health this year at Columbia University.
The bride's parents, former President Bill Clinton and Secretary of State Hillary Clinton, are already in Rhinebeck for the wedding which will have a guest list of 500, but sans US President Barack Obama and the first family.
According to unconfirmed reports the guests include talk show queen Oprah Winfrey, Hollywood mogul Steven Speilberg and former British Prime Minister John Major.
Obama won't be there as he says that he wasn't actually invited and that in any case, two Presidents would be "one too many" at the wedding.
But media reports do not rule out the possibility of the Obamas making a grand entry by keeping their participation a secret for security reasons.
Estimates of the wedding cost, has been put between $ 3 to 5 million. Bill Clinton meanwhile charmed the locals during a casual stroll through the town, saying that he was pleased with his daughter's choice of life partner.
Father Clinton told spectators that he liked his son-in-law to be, the American media reported. "I like him (Mark) very much," a smiling Clinton said "I really do. I admire him. Hillary feels the same way."
Casual in jeans and a black golf shirt, Clinton shook hands and greeted the crowd like he was back on the campaign trail, reported New York Daily News which described the event as the 'Wedding of the Millennium.'
His surprise appearance came before a private rehearsal dinner on Friday  night in a renovated stone barn, after months of secrecy over the wedding.
Former Secretary of State Madeleine Albright, former Bill Clinton adviser Vernon Jordan was also present at the dinner.
After weeks of speculation about everything from who designed the dress, to the cost of the wedding cake, the ceremony will finally take place at 5 pm local time.
The marriage is an interfaith marriage since the bride was brought up as a Methodist Christian and the groom is Jewish.
The nuptials will reportedly include both Christian and Jewish traditions as Chelsea is a Methodist while her fiance is Jewish. Nothing has been announced about whether Chelsea is converting to Judaism or other options.
In an interview with NBC in Islamabad last week, Hillary did not give away any secrets about the wedding but expressed her support for the interfaith marriage.
"Over the years, so many of the barriers that prevented people from getting married, crossing lines of faith or colour or ethnicity have just disappeared," Clinton said.
"Because what's important is: 'Are you making a responsible decision? Have you thought it through? Do you understand the consequences?' And I think in the world that we're in today we need more of that," she added.
Meanwhile, the media frenzy continues. Reporters have been scrambling around the cozy town looking for any interesting tidbits from the menu to the song list.
Clinton told NBC that it was going to be an emotional day for both her and husband. "You should assume that if he makes it down the aisle in one piece it's going to be a major accomplishment," she said, while in Islamabad, last week. "He is going to be so emotional, as am I."
Image: US Secretary of State Hillary Clinton waves beside her husband former US President Bill Clinton as they leave an after-party in Rhinebeck
Photograph: Reuters