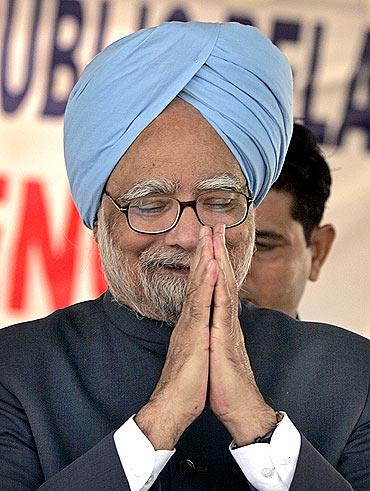 Spot the odd ones out from the list of tragedies, natural and manmade, below:
January 13, 2010: Thousands were feared killed when a massive earthquake shook Haiti.
February 26: Six Indians were killed in coordinated terrorist strike in Kabul in which 11 others of other nationalities were killed.
February 27: Hundreds were killed as a massive earthquake rattled Chile which produced aftershocks and triggered a tsunami.
March 29: Twin blasts rocked Moscow's subway rail system, killing at least 50 people and injuring many others.
April 14: More than 1,000 people were killed as an earthquake struck the Tibetan region.
April 14: More than a hundred people were killed when a storm lashed Bihar, Bengal and Assam.
May 22: More than 160 people on board were killed when an Air India aircraft coming from Dubai overshot the runway and tumbled over the cliff in Mangalore.
May 28: the Mumbai-bound Gyaneshwari Express was derailed, leading to a collision with a goods train in West Midnapore district. More than 100 people lost their lives in the mishap, and the Maoist-backed People's Committee Against Police Atrocities is suspected to be behind the incident.
July 19: The Uttarbanga express rammed into the Vananchal Express at high speed, in which more than 60 people were killed. There was a whisper of sabotage behind the accident, but so far there has been no evidence of it.
July 28: More than 150 people were killed when the Airbus A320 operated by Pakistan's Airblue flew into a mountain side near Islamabad.
No idea? Give up? Here's a clue, from the Press Information Bureau's Prime Minister's Office records:
The prime minister sanctioned $5 million towards earthquake relief and rehabilitation in Haiti.
Condemning the Kabul strikes, the prime minister conveyed his heartfelt condolences to the families of the Indians killed.
Condoling the loss of lives in the Chilean earthquake, the prime minister granted $5 million towards earthquake relief to the Latin American nation.
The prime minister condoled the loss of lives in the Moscow blasts.
The prime minister regretted the loss of lives in the China earthquake.
The prime minister sanctioned ex-gratia relief of Rs 1 lakh to the victims of the storm from the prime minister's relief fund.
The prime minister condoled the Mangalore air crash victims and sanctioned Rs 2 lakh for the families of the dead and Rs 50,000 each for the injured.
The prime minister expressed grief and shock over the tragic plane crash in Islamabad.
Two tragedies that the prime minister of India did not react to -- neither condoled the victims' families nor granted an ex-gratia to the families -- were the train accidents in Bengal of May 28 and July 19, both of which there was a significant loss of lives and in which the Maoist hand is being suspected.
Could that be a reason for his reticence? Or is there another?
Photograph: Fayaz Kabli/Reuters
ALSO READ: The day Manmohan Singh almost quit