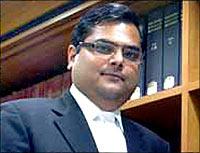 The Amit Shah episode is snowballing into a major political battle.
The Congress party has outwitted the Bharatiya Janata Party by cornering Shah, a key aide of Gujarat Chief Minister Narendra Modi.
Beyond any doubt, the BJP confronts a huge crisis even as the Central Bureau of Investigation began interrogating Shah, who resigned as Gujarat's minister of state for home, on Saturday, July 24.
The Modi government or his party is unlikely to leave the former minister to his fate.
Senior BJP leader Sushma Swaraj, the Leader of the Opposition in the Lok Sabha, has already warned, 'Yeh ladai sansad ke andar aur sansad ke bahar bhi ladi jayegi (This battle will be fought inside and outside Parliament)'.
The legal and political battle over the Sohrabuddin fake encounter case has just begun. Gujarat's BJP unit has deputed prominent lawyer Devang Nanavati, one of its youthful leaders, to speak to the media, which has emerged as an influential force in the high-profile case.
Nanavati was incidentally the first runner-up in The Times of India's Lead India contest.
Devang Nanavati, a fourth generation lawyer from Ahmedabad's well-known Nanavati family, has been practising in the Gujarat high court and Supreme Court since 1995. Since Shah's lawyers are Nirupam Nanavati (who is not related to Devang) and Nitesh Amin who acts on advice provided by lawyer Ram Jethamalani in the case, Devang clarified to Sheela Bhatt that he was not speaking to Rediff.com as Amit Shah's lawyer.
The first of a two part conversation:
Those who have read news reports about the Sohrabuddin encounter case and have seen five videos of the sting operation would like to believe that Amit Shah's case is not even defensible.
First of all, I can't comment as his lawyer. I will speak as a BJP member.
First, these cassettes are subject to verification. Second, they are showing only bits of it.
We don't know in which context the conversation is taking place. Shah has already given the statement that these tapes are apparently doctored.
The court should decide its authenticity and we must know when these sting operations were carried out.
Was it before the encounter or after? And under whose instruction were these operations carried out?
Let us not pre-judge the issue, let the court decide.
The tapes may have been doctored, but the details of the phone calls Shah made suggest his links with the accused.
A home minister talking to police officers, it is possible. Whether it is against protocol or not we can keep arguing, but the fact that phone calls from person A to person B don't establish what the subject of the conversation was. It is a bit far-fetched to imagine what conversation could have taken place.
A mere list of phone calls is not sufficient evidence to convict somebody. I think it is not even sufficient enough to 'charge' somebody who was the minister of home in the state.
What about the statements made by Raman Patel and Dashrath Patel, the Ahmedabad builders, indicting Shah?
The BJP has already stated that the Congress and central government is pressurising the CBI. It is easy to manipulate two builders in Ahmedabad who themselves have a long record. Their past is murky.
Why did they not come out till now?
They have not said there was pressure to keep mum. According to their own story, they carried out the sting operation long ago. Till Shah was arrested they didn't speak to the media.
Whatever the Congress spokespersons say today, the next day those events will be presented either by the media or CBI. Is it a coincidence?
This is creating doubts and giving credence to what we have been saying -- that this case is entirely stage-managed by the Congress.
What about the broader issues? One, the Gujarat government has accepted before the Supreme Court that the Sohrabuddin encounter was fake.
There is such talk in the affidavit filed at that stage. I don't have the records to let you know more about it. I also don't know in what context the affidavit was filed.
Whether it was a fake encounter or not is one thing, and whether the home minister is involved or not, is a separate issue. We should differentiate between the two.
Are we talking of an encounter or the minister's involvement? Just because the encounter is fake doesn't mean the minister is involved.
The issue of men in khakhi taking the law into their hands...
Let me ask a counter question. There have been more than 5,000 encounters in this country. Over 1,700 encounter-related complaints are pending in various courts and before the Human Rights Commission.
More than 800 encounters took place in the last few decades in Uttar Pradesh alone.
More than 400 police encounters took place in Maharashtra.
At least 900 encounters took place in Punjab.
None of these have come to trial as has the Sohrabuddin case. We have never heard that anyone has been convicted for these thousands of encounters. No policemen have been found guilty or even arrested as it has happened in Gujarat.
In Gujarat, the controversy is being created about nine encounters. We are making a hue and cry about Sohrabuddin who was a known confidante of (fugitive gangster) Dawood Ibrahim and (slain gangster) Abdul Latif.
He was wanted by the police in at least five states. Many more AK-47s was recovered from him than were recovered from (26/11 terrorist Ajmal) Kasab and his gang.
Why are you not talking about 1,700 encounters about which strong suspicions have been raised? You want to pick and choose. You are selective in applying the law.
When it comes to Gujarat, when it comes to Mr Modi, you want a different set of laws to be applied. Please ask this question to those governments in power who have known about more heinous and more number of encounters.
Why is Gujarat being targeted? The Supreme Court said that because the investigation requires to be done in five states, let it be done by the CBI. The apex court was right.
But where is the investigation in Andhra Pradesh? Sohrabuddin was also wanted by the AP police.
(Gujarat police officer) Geeta Johri has done an intensive investigation into the Sohrabuddin case and the details of the Kausar Bi murder also came to light.
(In a quick tit-for-tat tone) Did you read Geeta Johri's investigation report?
No. I have known whatever became public when the Supreme Court heard the case. And we have read the news reports that carried reliable reports of the case.
You have not read the actual report filed by Johri nor have I read it. Why comment on it?
But we have covered the case...
I am sure you were briefed by the CBI.
Part 2 of the interview: 'Who says Sohrabuddin's wife has been killed?'
ALSO READ:
What Amit Shah's fall really means
This is a turning point for Modi
What the Supreme Court says about Shah